Apple Store Grand Central NYC confirmed for December 9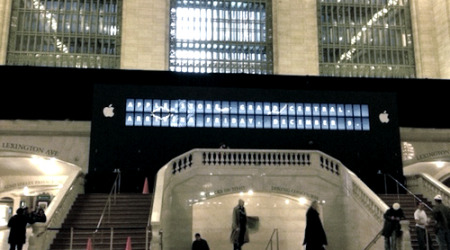 When it comes to well-placed stores, Apple is more than a pro in the industry, and confirming their plans to add another hero store in Grand Central NYC on the 9th of December keeps their crown undeniably intact. Apple has both changed the sign in this newest and certainly amongst the grandest of future Apple Stores from "arriving soon" to "arriving Friday, December 9," this once again reminding consumers that the Black Friday launch was never in the cards to begin with. This store's launch has been mired in controversy since its initial announcement, but none too relevant to stop the actual opening of the doors next week.
Construction workers were apparently the ones who revealed to sources that had the store been planned for opening on Black Friday, they certainly weren't aware of it, and that any way you look at it, there was simply too much to be done as far as actual construction work for a launch last week. So add this to your list of things we've got to wait just a LITTLE bit longer for before the holiday season is truly upon us, and head down there if you dare not this weekend, but next. As of yet there are no signs of any special edition hardware in the space, but you never know.
Meanwhile the New York state comptroller's office is apparently launching an investigation into the MTA's handling of Apple's lease of the space. It's said that the lease favors Apple at the expense of taxpayers, this evidenced (again, supposedly) by an unusually low price payed per square foot in the space. Note also that Apple is paying for some upgrades to the space, but also appears to be exempt from an otherwise nearly universal GCT revenue sharing policy. So we'll just see how that all pans out – meanwhile, shop the weekend away!
[via MacNN]