Apple Store down: What's incoming? [Update: Back!]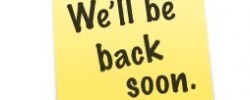 Fancy a quick mid-week Apple Store refresh? Apple obviously does, with its online retail arm down for updates at the moment. It's not just the US branch, either; European and Asian stores have been taken offline too.
What products – if any – might show up when the store reloads remains to be seen. Apple recently updated the iMac line, so it's not going to be that, and we're not expecting new iPhone or iPod hardware until later in the year. This could just be some behind-the-scenes maintenance, but we'll have to wait until later today to find out for sure.
We've been hearing about bricks & mortar Apple Store updates lately, too. According to the rumor mill, Apple may be upgrading its stores to support NFC payments as part of a significant retail 10th anniversary celebration.
Update: It's back online, and we can't spot any changes. Looks like this may be behind-the-scenes work more than anything.
[Thanks Josh!]