Apple Store down on the eve of iPad mini preorders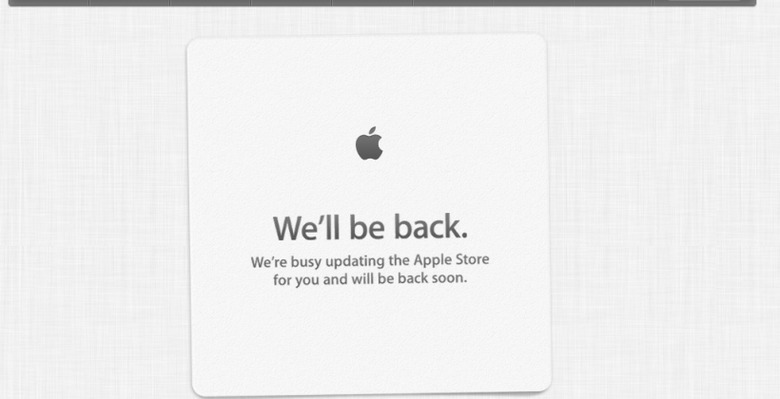 As we said earlier today, Apple's latest and greatest, the iPad mini, will be available for pre-order on October 26, most likely at midnight PST/3AM EST. It's looking like this time frame is spot-on because the Apple Store is officially down, displaying the familiar message: "We'll be back." If you've been chomping at the bit for a miniature iPad of your own, get your credit card ready.
Apple announced the iPad Mini on October 23. The wee iPad features a 7.9-inch display with the same 1,024 x 768 resolution as the iPad 2, as well as a slew of other features, not the least of which is its lowish starting price of $329 (16GB WiFi-only model). The tablet runs an A5 chip, weighs 0.68lb, and measures in at 7.2mm, which is the width of a pencil. Battery run time is 10 hours. Check out our hands-on report here.
All iPad mini models will be available for preorder when the store comes back up, including the WiFi-only 16GB model at $329, the WiFi-only 32GB model at $429, and the WiFi-only 64GB model for $529. If you're looking for some mobile broadband, the 4G model will run you $459 for 16GB, $559 for 32GB, and $659 for 64GB. The WiFi-only models will begin shipping on November 2, and will be available in Apple stores at 8AM, while those who pre-ordered 4G models will have to wait a bit longer.
On Wednesday, Apple CEO Tim Cook addressed the issue of the iPad mini in relation to Steve Jobs' previous statement lambasting 7-inch tablets. "The comments that I think you're referencing are comments that Steve had made before about seven inch tablets. And, let me be clear, we would not make one of the seven inch tablets. We don't think they're good products, and we would never make one...The iPad mini is a fantastic product. It is not a compromised product like the seven inch tablets. It's in a whole different league."