Apple Store back online with iOS-friendly navigation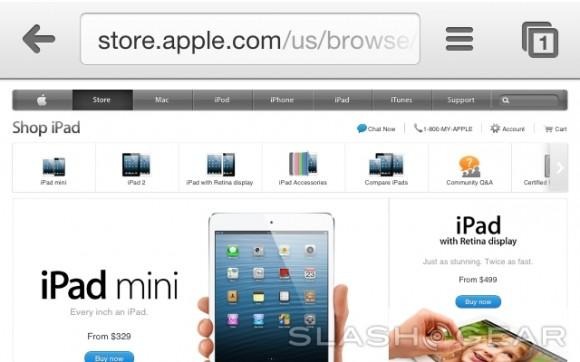 Late last night, the online Apple Store quietly went down momentarily, provoking speculation as to what the company was updating. Of course, we haven't heard anything recently about an update to their product line (or at least an update that didn't warrant an event), so we assumed it was merely just a site redesign of sorts, and it turns that's exactly what it was.
The change is very, very subtle, but if you were to navigate to store.apple.com on your iOS device, and then tap on a product, a touch-capable horizontal scroll bar will appear at the top, letting you swipe through different sub-categories. A small change, indeed, but it could be a sign that Apple is slowly starting to make its online store more mobile friendly.
Of course, Apple has their own app specifically for the online Apple Store, but it's becoming common practice that companies develop a mobile-friendly version of their website anyway, just in case mobile users don't have the dedicated app installed. Frankly, we're kind of surprised that Apple has waited this long to start making its online store mobile friendly.
Many people thought that the temporary downtime of the online Apple Store was due to the company adding the T-Mobile version of the iPhone 5 to its lineup, but seeing as how the website was also down for folks outside the US, that wasn't the main reason for the downtime, and there's no T-Mobile iPhone 5 currently in the Apple Store.