Apple Stock Hits Record High, Worth Almost The Combined Value Of Microsoft And Google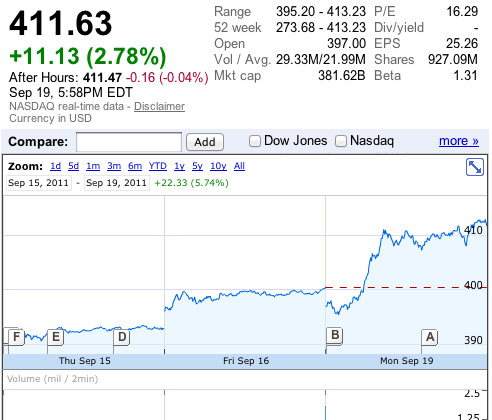 It's not clear what market forces were in play today, but Apple's stock hit an all-time high, reaching $413.23 per share at one point before dipping slightly to $411.63 at close. Amazingly, Apple is now worth over $23 billion more than Exxon, which it surpassed briefly last month, and is approaching the value of Microsoft and Google combined.
Apple is up 3 percent from the previous day with a market cap now of $381.62 billion. Microsoft follows behind with $227.97 billion and Google with $176.51 billion. The surge could have been driven by the excitement surrounding Apple's next-gen products, including the iPhone 5, iOS 5, and the iCloud. The only thing for certain though is that Apple isn't hurting from the departure of Steve Jobs, at least not yet.
New rumors continue to surface as we approach the launch date for Apple's next-gen products. There were new claims from analysts that Apple will be releasing an iPhone 5 along with a updated iPhone 4 plus model as well as newly leaked photos of what's purported to be the iPhone 5's A5 processor. There were also reports today that Apple will be resetting the iCloud on September 22, signaling the release of the final golden master version of iOS 5, which means the iPhone 5 is on track to launch by the rumored mid-October time frame.
[via 9to5 Mac]