Apple Spaceship campus begins construction with life-sized models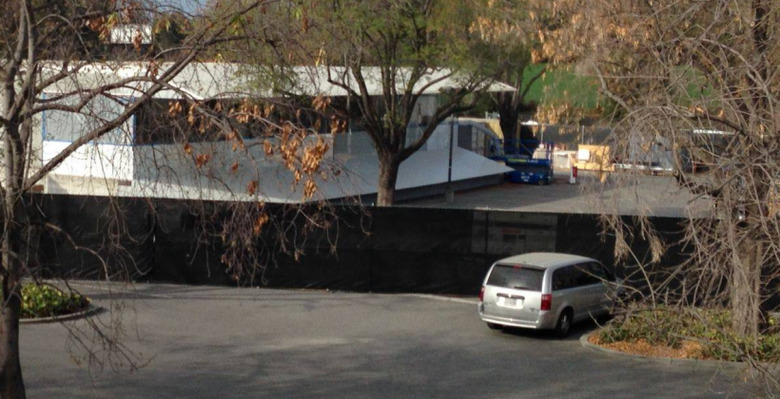 In what very much appears to be a play on the old school-bound project which asks what the use is of a life-sized map, Apple has begun constructing life-sized models of the structures that'll be included in their Spaceship campus. While we've previously put quotation marks around the word Spaceship when speaking about this campus in the past, it's been called that name so very many times at this point that we've decided to simply call it that as a matter of fact. Here we're seeing the first of a number of structures that'll be re-built for the final campus.
This bit is just one exterior portion of the eventual much-more-massive structure as made by Apple. The plan is to make a structure much like what we've seen over the past year in tiny mock-ups and illustrations. That means a big ring, lots and lots of vegetation, and an outdoor – yet underground – presentation arena for press events.
The part you're seeing now is set a few blocks away from the eventual location of the Apple campus. We're not going to tell you where, because it's entirely unimportant to the story, but if you'd like to investigate yourself, just start walking around in vast circles near Apple's eventual campus building site – it's out there somewhere, of that you can be sure.

The campus itself will eventually roll out to be much more massive than the 9,000 square-foot structure you see here, while this building will eventually be torn down. Here we're seeing a testing ground for the group, looking at the aesthetic viability of the entire structure in a microcosm of the final building – coming in the next few years.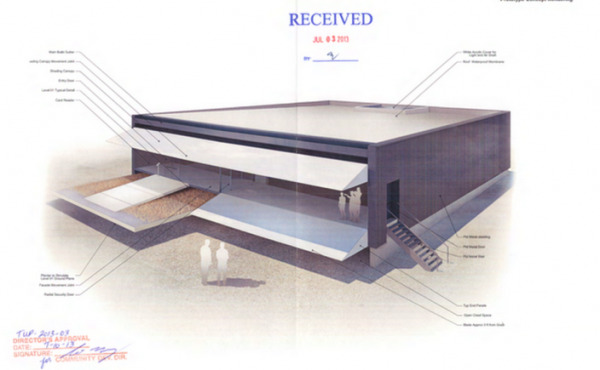 One image above – the sort of straight-on photo – comes from Silicon Valley Business Journal while the other comes from 1600vam from Reddit. Also above VIA 9to5Mac (EDIT: originally from SVBiz as well) comes a one-sheet illustration of the structure – or what very much appears to be the structure – created by Apple and approved on the 3rd of July, 2013.
Have a peek at the timeline below to see additional bits and pieces from the road toward the construction of the final campus as well.