Apple Schedules Special Chinese Launch Event On Sept 11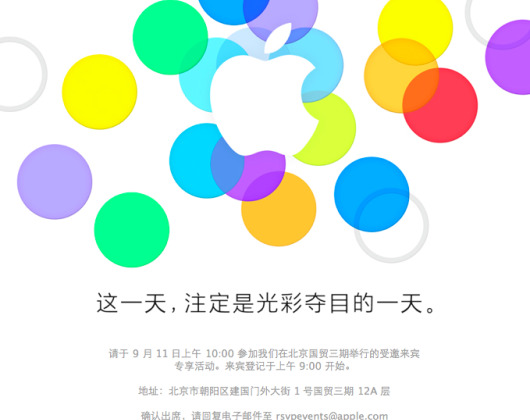 Apple is truly making history on its upcoming launch event. Not only is there talk of colorful iPhones, a huge move away from its traditional toned-down look, but now it seems that the company has scheduled a press event in China, the first ever standalone event that Apple has ever organized for the Chinese media.
China has lately been in the mind, and business, of Apple, ranging from labor scandals to legal disputes to market issues. Recently, the company came under fire over its confusing warranty policy in the country, to which Apple issued a public apology, earning praise from the Chinese government. Early this year, Apple CEO Tim Cook went to China to talk with government officials on matters relating to the smartphone industry in general, and, no doubt, the iPhone in particular.
China is a huge, and relatively new, market for Apple, with sales going strong, but not fast enough as in other markets. Apple is, of course, seeking to expand its coverage but has been quite slow in building up the needed stores to increase sales. It seems that the company is taking a special interest and making special steps to woo the country, and its consumers, over to its products.
Now it seems that Apple has prepared a special conference just for the Chinese media, just one day after its schedule press conference on September 10. Those who have been lucky enough to be invited are asked to come to the Beijing World Trade Center on September 11 at 10:00. Unlike the September 10 event, this will be done behind closed doors and for China only.
We still don't know what exactly will be announced on the global press conference, much less the Chinese one. Of course, we're already guessing a new iPhone as well as the official launch of iOS 7. But now there might be something in store for colorful and cheaper variants as well.
SOURCE: Sina