Apple relaunches app gifting, lets buyers postpone "shipping"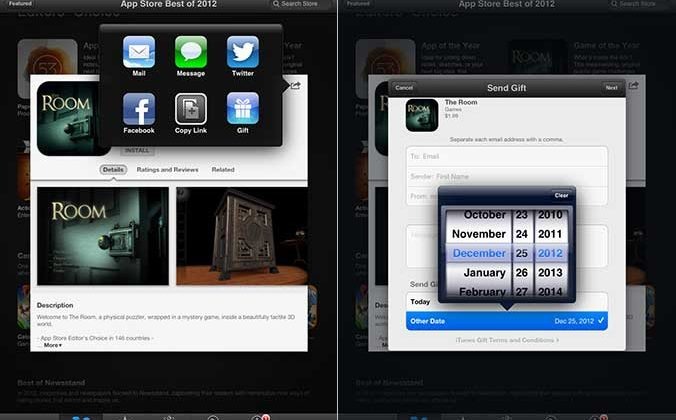 Apple's app gifting option ended with the arrival of iOS 6, but has finally been brought back narrowly in time for the holidays. Joining the service is the new ability to select when you want the recipient to receive your digital gift. Buyers can schedule an app to be sent on Christmas, for example, or on the recipient's birthday.
The digital gifts can be sent to multiple people at once, saving time. Giving an app is about as simple as can be hoped for: simply choose "Gift" from the app's information card and choose the recipient(s). If a date isn't selected, the app will be fired off right away. Gifts can be scheduled as early as three months in advance.
According to the Wall Street Journal, users cannot give app gifts from a mobile device running iOS 6, although the feature is available with iOS 5. Those running iOS 6 devices will have to do their app gifting via iTunes using their computer. This is a tad inconvenient, but not terribly so, considering that you still don't have to trudge out into the cold.
Of course, you can also nab an iTunes Gift Card if you're not sure what app your recipient wants. For those on your shopping list who use Android, Google doesn't offer an app gifting feature, but users can buy a Google Play Gift Card of up to $50 and give that instead. Not quite as awesome as having specific apps sent to your friends' phones on Christmas, but still nice.
[via Apple Insider]