Apple rejects Taposé iPad app for Microsoft Courier fans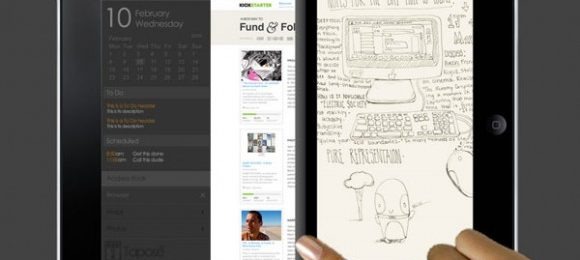 Apple has rejected an iPad app that attempted to bring some of Microsoft's Courier concept to the iOS slate, Taposé, though the team behind the software say it plans to appeal the decision. First shown back in April last year, Taposé uses a split-screen layout with a browser and other apps on one side and a digital notebook on the other. Unfortunately, it seems Apple wasn't keen on the company's use of multiple display windows.
"Apple rejected due to rule 10,4 stating that Tapose presents multiple windows at once" the company wrote on its Facebook page. "We created an alternate where the Slide Bar couldn't separate the screen into two to at least get an approval. They still rejected citing a screenshot of the open Journal as evidence of the multiple windows. This obviously is not multiple windows and even if it was, they are being extremely inconsistent with this rule in approving apps."
Courier caught the imagination of geeks a couple of years back, when details of the dual-display clamshell tablet first leaked. The product of Microsoft skunkworks Pioneer Studios, collaborating with Samsung for hardware, the tablet was to be a digital notetaking platform with a tightly defined set of talents – browsing, clipping and journaling – rather than the catch-all of regular Windows slates.
The project was axed, however, and Pioneer Studios subsequently shut down, but hopes that some of the Courier magic might be carried over to the iPad – albeit without precise digital stylus support – were ignited at Taposé's reveal last year. It seems Apple doesn't share the same enthusiasm, however.
[via GottaBeMobile]