Microsoft Courier style comes to tablets with Tapose app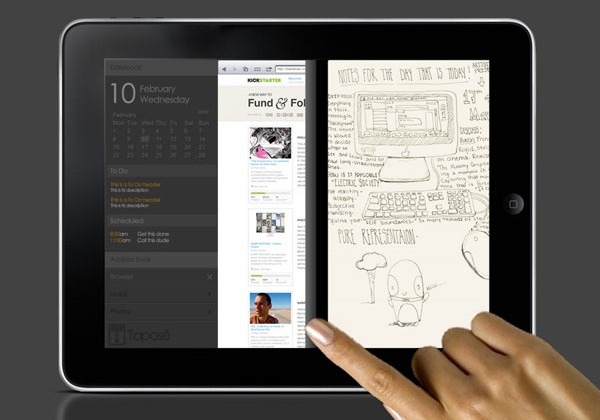 If you are a CES hound as we are you might recall at CES 2010 Microsoft showed off an interesting tablet with two screens called the Courier. At the time the Courier debuted, the indication was that the thing would actually go into production. Microsoft dashed those dreams when it later announced it had no intention of producing the dual screen tablet. If you like that dual screen style and the things that it could potentially allow you to do, you might like the Tapose app that has surfaced.
This app comes from a couple of engineers who are reinventing the cool Courier dual screen layout and usability with an app for current tablets. The app doesn't have the stylus capability that the Courier offered, but it does have the dual screen style. The Tapose app is being designed for the iPad right now and there are reportedly plans for an Android version too. The idea is that the user of the tablet could open two things at once.
For instance, one side of the screen can run a web browser, while the other side runs a document that the user is working on. The user would be able to drag and drop things from one side of the window to the other. That is very cool and I know it would be useful for anyone who uses the web to research and write a document. Tapose is apparently in alpha form right now and won't hit the market until late summer.
[via TabletPCReview]