Apple rejected App Store game over keyword disagreement?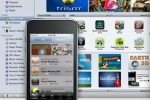 Criticisms of Apple's approval process for the App Store have been varied and frequent since the iPhone/iPod touch download service first opened its doors, and the latest complaint is in how the Cupertino company has handled keywords.  According to developer Mobile1UP, Apple rejected one of their recent games because they had used the search keyword "facebook".  The keyword had been included as the Mobile1UP game is related to another version available on the popular social networking site.
However, what surprised Mobile1UP is that Apple have seemingly bound approval of an app to approval of its associated keywords.  The developer was told – having contacted the App Store team themselves, after two weeks of silence – that they would have to modify the keywords and resubmit the application binary for full approval.
In fact, there was reportedly nothing wrong or contentious with the game itself, only the keywords Mobile1UP had selected.  Since the approvals process takes in excess of 14 days, but given the App Store has – as Apple reiterated yesterday – over 75,000 titles at present making search accuracy vital unless a game is to sink beneath the deluge, it presents a worrying dilemma for developers trying to balance speed of admission with ease of discovery.
[via Geek]