Apple rebrands iPad 4G after LTE furore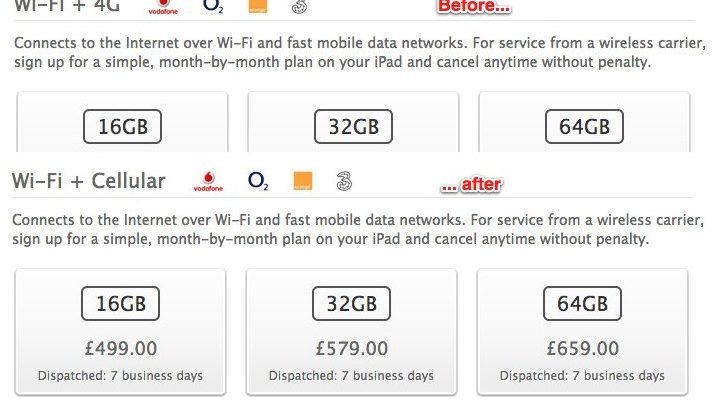 Apple has quietly rebranded its new iPad WiFi + 4G in response to continued pressure from regulators concerned that buyers were being misled over the data speeds the third-gen tablet could achieve. The tablet, now know as the new iPad WiFi + Cellular, was capable of connecting to LTE networks from Verizon and AT&T in the US, but incompatible with 4G networks elsewhere in the world. Apple had faced increasing scrutiny in Australia, the UK and elsewhere over whether its branding was confusing and potentially misinforming would-be tableteers as to what their new gadget was capable of.
As the above screenshot shows, references on Apple's online store (in this case in the UK, but also changed in Australia, the US, Canada, UAE, Vietnam, Thailand, Singapore, New Zealand, Malaysia, Ireland and Hong Kong) have been updated from "4G" to the more generic "cellular" along with a message indicating what roaming support is possible. Other mentions of 4G on Apple's product pages for the new iPad are being amended as well.
Australian consumer rights watchdogs were first to voice concerns over what the iPad was being sold as, arguing that while one LTE network is in operation in the country, it uses frequency bands incompatible with the iPad's LTE modem. The other 4G network present uses WiMAX, which the new iPad also lacks support for.
Thus started a back-and-forth battle of branding, with Apple arguing that "4G" has become an indication of speed rather than specific technology, and Australia's consumer rights group – joined eventually by scrutiny in the UK and elsewhere – insisting otherwise. Apple agreed to post notices at point-of-sale clarifying which Australian networks the new iPad 4G could use, but the regulators pressed for a complete change in branding.
That change looks to have finally come about, with Apple opting to fully alter the name of the cellular iPad – even in the US, where it is compatible with LTE – so as to retain the consistency of its branding. There's still no word on how many customers took Apple Australia up on its offer to refund anybody disappointed with the connectivity of their tablet once they got it home.
[via 9 to 5 Mac]