Apple Q3 2014 sales: 35.2m iPhones, 13.2m iPads, 2.9m iPods, 4.4m Macs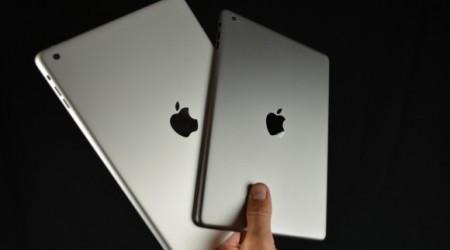 Apple released their earnings today, and their staggering sales figures continue on a trend pleasant to Wall Street. Their sales figures, however, didn't make such an impact. The bread-and-butter of Apple, the iPhone/iPad duo, have slumping sales.
The iPhone sold to the tune of 35.2 million last quarter alone, which is a massive number of devices sent out to the world. It's not anywhere near sales from last quarter, though, as Apple sold 43.7 million smartphones. That's a significant dip, but easily explained away (we'll get there). The Mac sold 4.4 million units, up from 4.1 million last quarter.
The iPad did similarly poorly versus last quarter. This quarter, Apple sold 13.2 million iPads. Again, nothing to snub your nose at, but when compared to the 16.3 million they unloaded last quarter — it's a significant dip. This one isn't so easy to explain away, but could be suffering by proxy. If you're curious, Apple let go of 2.9 million iPods this quarter; an uptick from the 2.7 million sold last quarter.
So, how do you explain the iPhone and iPad slump? The impending release of the iPhone 6 — and all we're hearing about it — likely has many consumers taking a wait-and-see approach. Expected to be bigger, Appel is answering a call many consumers have asked them to take up, and giving us what we ultimately want is going to pay off big next quarter.
The iPad may be seeing slumping sales as a result. If consumes are holding onto their cash in expectation of a new, larger iPhone — they might just be rethinking that iPad buy. Several good Android tablets also compete for the tablet dollar, as do devices like the Chromebook; both of which are often less expensive than an iPad. The iPad is also said to be getting an update, as well as a larger 12-inch iPad Pro, so it could be another iPhone 6 scenario for the iPad.