Apple Q2 report suggests 2008 slowdown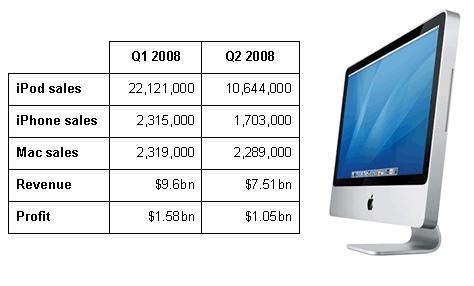 Apple's Q2 2008 financial figures are out and, while management are flinging out the usual hyperbole-filled quotes, the stats themselves make for potentially worrying reading. While year-on-year comparisons (i.e. measuring Q2 2008 to Q2 2007) are reasonable, compared to Q1,sales of iPhones were down by over 600,000 while iPod sales have more than halved. Even Mac sales are seeing a slowdown, dropping by 30k units from the first quarter.
"We're delighted to report 43 percent revenue growth and the strongest March quarter revenue and earnings in Apple's history. With over $17 billion in revenue for the first half of our fiscal year, we have strong momentum to launch some terrific new products in the coming quarters" Steve Jobs, CEO, Apple
Verus Q2 2007, iPod sales rose a mere 1-percent. Revenue from the PMPs grew 8-percent, however, thanks to the most part to the higher-priced iPod Touch. However it's enough to prompt analysts to suggest that the iPod market overall has matured and, as a result, flattened.
"We're thrilled to have generated $4 billion in cash flow from operations in the first half of fiscal 2008, yielding an ending cash balance of $19.4 billion. Looking ahead to the third quarter of fiscal 2008, we expect revenue of about $7.2 billion and earnings per diluted share of about $1.00" Peter Oppenheimer, CFO, Apple
Of course, the next couple of quarters should see the arrival of the much-anticipated 3G iPhone, which is likely to reinvigorate Apple's cellphone sales. R&D has also seen huge investment, with an almost 50-percent growth in the money Apple is putting into developing new products. Q1 was undoubtedly bolstered by Holiday season sales, and the offset demand for iPhones should add up to a successful year overall.