Apple playing for keeps with Tim Cook salary splurge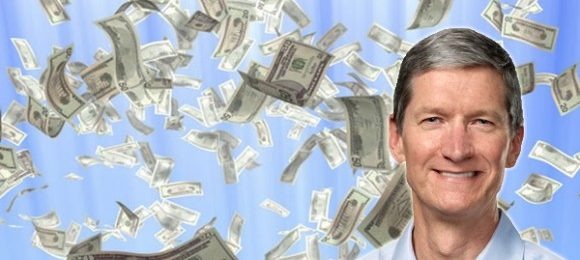 Apple CEO Tim Cook is not netting a near-$400m annual salary, despite reports supposedly detailing the chief exec's bulging paycheck, as the top-tier benefits are contingent on him staying with the company for a decade. Speculation as to Cook's financial position began yesterday, with an AP report citing the restricted Apple stock the company's board approved as part of his taking the role Steve Jobs vacated last year. However, subsequent reports failed to recognize when, exactly, Cook could expect to see any cash.
As confirmed in an SEC filing last year, the shares in Cook's renumeration package are set to vest at different times. Half of the 1m stock units – valued at $376m back in August 2011 – will vest (i.e. be passed on to Cook) in August 2016, with the remainder coming in August 2021, ten years after he assumed the role of CEO.
In contrast, Cook's regular salary is around $900,000 per annum, while the exec is also promised a similar amount again as a performance-related bonus. The oft-quoted $1 salary Steve Jobs took was offset by the Apple founder's huge personal holding of shares in the company: Jobs owned approximately 5.5m, which at today's rates would be worth in the region of $2.4bn.
"In light of Mr. Cook's experience with the Company, including his leadership during Mr. Jobs's prior leaves of absence, the Board views his retention as CEO as critical to the Company's success and smooth leadership transition" Apple said in an SEC filing this week. "The RSU [Restricted Stock Unit] award is intended as a long-term retention incentive for Mr. Cook, and, accordingly, should be viewed as compensation over the 10-year vesting period and not solely as compensation for 2011."