Apple picks up Anobit for Flash Memory

There's a purchase out there today that you really aught to pay attention do, ladies and gentlemen, that being Apple's purchase of Israeli start-up SSD maker Anobit, creators of storage products already found in devices such as the iPhone, iPad, and MacBook Air. This group has apparently gathered together to speak about how they've been payed aproximately $500 million USD to be purchased, this according to Israeli newspaper Calcalist. In addition, the Prime Minister of Israel himself sent out a Twitter update which welcomed Apple to the country, congratulating them on their first acquisition in the country.
Apple will use Anobit's technology as they have been in future iterations of their mobile devices, flash chip technology being significantly less expensive to them when they literally own the company producing the hardware. We'll see how this affects the amount of flash memory available in future devices – hopefully we'll be seeing 128GB iPhones inside 2012 – sound good to you? Neither Anobit nor Apple has confirmed this purchase as of yet, but the Israeli Prime Minister Benjamin Netanyahu seems to have the inside tip, so we'll go with a Yes, this is for real.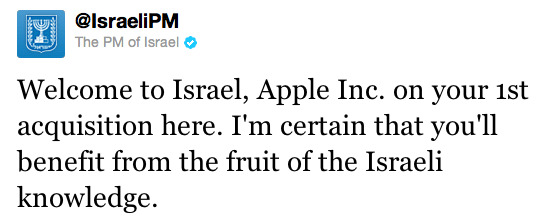 This is not the first time Apple has picked up a company that has reliably created parts for them in the past. Without a doubt, if there's one company you'd want loving you so much they wanted to buy the company, it's Apple. With no end in sight for one of the biggest technology producers on the planet, Anobit's new tie with Apple is sure to have them popping a few champagne bottles tonight.
[via ComputerWorld]