Apple Pencil power comes to iPhone with Wacom Bamboo Sketch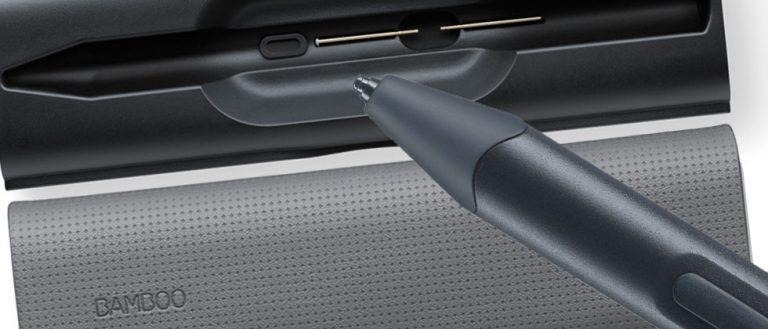 Today Wacom revealed two new stylus devices, one of which works on the iPhone (and the iPad). While the Apple Pencil only works on "Pro" devices like the iPad Pro, this Wacom Bamboo Sketch works on both iPhone and iPad. This device lets users "draw on their iOS devices like they would with a pen and paper."
The Wacom Bamboo Sketch works battery life that can span up to 16 hours at a time. This battery works with plug-and-charge recharging, with an included USB charging unit. With said battery, the Wacom Bamboo Sketch provides what Wacom describes as "a customizable and natural pen-on-screen experience." Customization includes the ability to switch between a soft and a firm nib for the tip of the Wacom Bamboo Sketch.
Like the Apple Pencil, the Wacom Bamboo Sketch allows for standard touch-sensitive use with iOS device, or specialized use with specific apps. Deeper abilities and features work with select apps from Wacom – and others like Bamboo Paper, ArtRage, Autodesk SketchBook, Concepts, and MediaBang Paint. With these apps, the user is also able to save their work to the cloud with Wacom's Inkspace.
This stylus works with 2,048 levels of pressure sensitivity, available to the user when working with the apps mentioned above. The Bamboo Sketch connects to the iPhone or iPad with Bluetooth – much like the Apple Pencil. The device and accessories (additional nibs, USB charging unit), come in a travel case in the product box.
Wacom Bamboo Sketch will cost users around $80 USD when made available soon. UPDATE: Wacom Bamboo Sketch will be made available through Wacom online and in select retailers starting in June, 2017. Prices in Europe and England are as follows: € 89.90 EUR and £ 74.99 GBP. Have a peek at the Wacom timeline below for the other most recently-revealed Wacom stylus – Bamboo Ink – made for working with Windows Ink-enabled devices of all sorts.