Apple Pay updated to support non-profit donations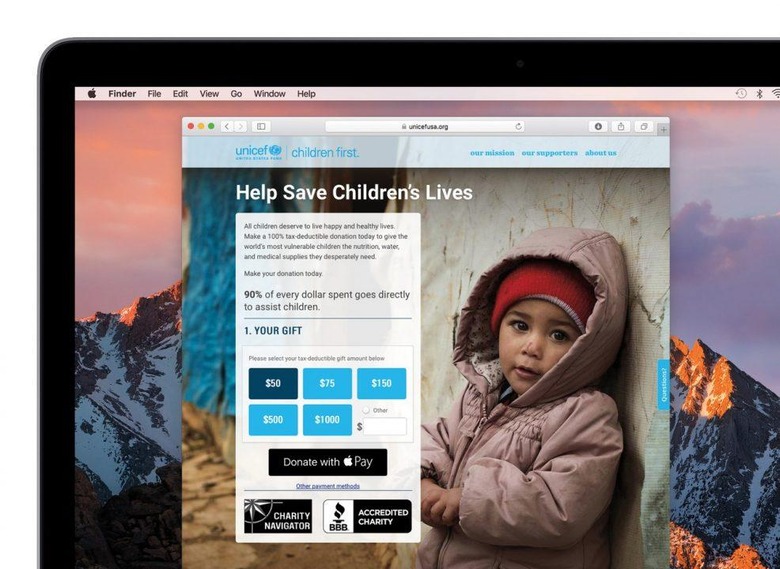 Giving Tuesday is coming up at the end of the month, and today Apple Pay is making it a little easier to donate. Apple announced today that Apply Pay now supports donations to non-profit charities, removing some barriers to contributing money. There's no waiting between the announcement and roll out, as Apple Pay's donation functionality is live from today.
Obviously, not all charities will support Apple Pay from launch, but there are around two dozen that do. Those include Doctors Without Borders, charity: water, the American Red Cross, Children's Miracle Network, and the Make-a-Wish Foundation. Apple lists a few that will be coming online shortly, such as the American Cancer Society and PBS.
Apple and the charities involved hope that this will encourage more people to give. Since those who are giving can now use Apple Pay, it means that they no longer need to create accounts or fill out forms with contact information. By removing those steps and making the transaction a little more seamless, more people may be encouraged to donate.
At this early stage, there seems to be a good range of charities that now support Apple Pay. Whether you're looking for charities that are centered around conservation or getting help to sick children, this starting roster has those bases covered. Have a look at the full list below:
Nonprofits bringing Apple Pay to supporters today include:

- American Red Cross

- American Heart Association

- charity: water

- Children's Miracle Network Hospitals

- COPD Foundation

- Crohn's & Colitis Foundation of America (CCFA)

- Doctors without Borders

- Feeding America

- GlobalGiving

- International Rescue Committee

- (RED)

- St. Jude Children's Research Hospital

- Save the Children

- The Nature Conservancy

- The Water Project

- UNICEF

- WNET

- World Vision

- WWF (World Wildlife Fund)

Nonprofits soon to offer Apple Pay include:

- American Cancer Society

- CARE

- DonorsChoose.org

- PBS and its local stations

- United Way
Apple hasn't said when those last five on the list will launch integration for Apple Pay. It did say, however, than a number of others will be going online in the coming months, so it sounds like we have some additions to look forward to as we transition into 2017.