Apple Pay tipped to launch October 18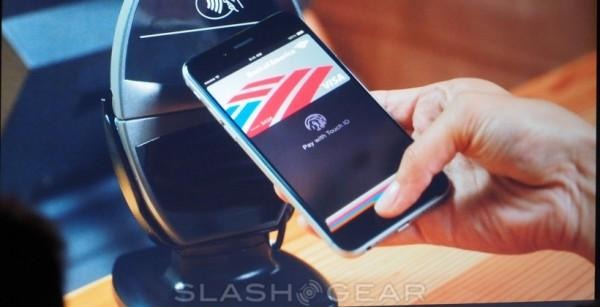 It appears as though Apple is planning to launch its Apple Pay wireless payment system in the U.S. on Saturday, October 18th. What appears to be a leaked internal Walgreens memo was sent to MacRumors, and seems to explain to company employees how the NFC payment method will work in stores, as well as how to be prepared.
While the Walgreens memo makes it clear that the retail pharmacy chain will begin accepting Apple Pay on the 18th, there is a chance that Apple will launch the service itself on Friday, the 17th, or possibly even the 16th, the day the company has its iPad media event scheduled. In such a situation, users may be able to try out Apple Pay at stores other than Walgreens before the 18th.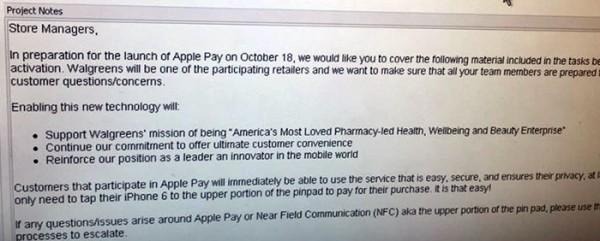 Apple hasn't launched a new product on a Friday or Saturday before in recent history, so rolling out Apple Pay on a weekend may seem strange, but then again that would be the prime time to target shoppers when they're out making purchases. Apple Pay will also require users to have the new iPhone 6 or iPhone 6 Plus, and while the feature is not yet enabled on devices, an iOS 8.1 update, expected between now and the 18th, will certainly add the contactless payment method.
In addition to Walgreens, financial institution USAA has recently confirmed they will be supporting Apple Pay starting November 7 through their Mastercard and Visa cards. When Apple Pay was first announced alongside the iPhone 6 in early September, Apple also said a number of retail partners would be accepting the service at launch, including McDonalds, Disney, Nike, Staples, Subway, and Whole Foods, as well as banks like Citi, Bank of America, and Chase.
SOURCE MacRumors