Apple patent reveals MacBook with touchpad keyboard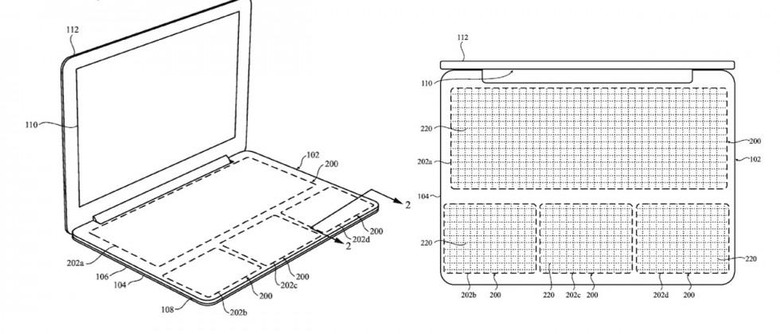 A recently discovered Apple patent reveals a significant possible change to the ultra-thin MacBook: replacing the physical keyboard with a touchpad similar to the existing Force Touch trackpad for mouse inputs. As usual with patents, this may not be indicative of what Apple has planned for future products, nor may this design ever see the light of day, but it's interesting to what could be possible if Apple takes its Force Touch technology to the next level.
Filed in September 2015, the patent is titled "Zero Travel," which could refer to the elimination of physical key travel, or movement, on a standard keyboard. Similar to the Force Touch trackpad on the existing MacBook and MacBook Pros, there would be no actual movement of parts, with the large touchpad instead using haptic feedback to communicate a key press when typing.
Other cool features described include small perforations in the touchpad's surface that would light up to show the outline and letter of the different keys to users. This would replicate the backlit keyboard found on the MacBook Air and Pro laptops.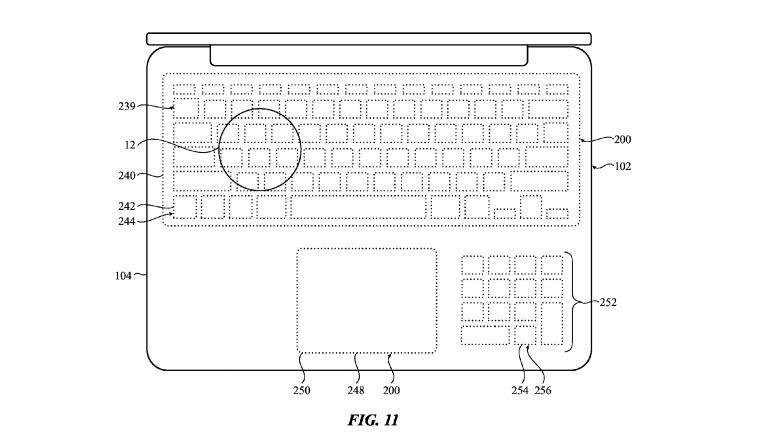 Also mentioned is a smaller touchpad that could sit alongside the current trackpad, being used as the numeric 10-key section on a traditional keyboard.
But the real advantage to this entire concept would be for the touchpad surface to be customizable depending on what the user is doing. Maybe the whole thing acts as a trackpad when browsing the web, but switches to a QWERTY keyboard when writing an email or typing a document. Photo editing could have it split between the two, with extra trackpad space on one side and a handful of keys on the other.
Imagine just the key layout or haptic feedback being adjustable for users with limited motor skills. Or third-party developers that could create specific input layouts for their apps.
While even if this patent is something Apple is seriously considering, it will surely be a long ways off before seeing release. The real downside at this point is imagining trying to successfully type on a flat piece of glass. Ever try typing something longer than a quick text message on an iPad? Yeah, it's not exactly a pleasant experience.