Apple offers up to $320 for your unloved iPad 2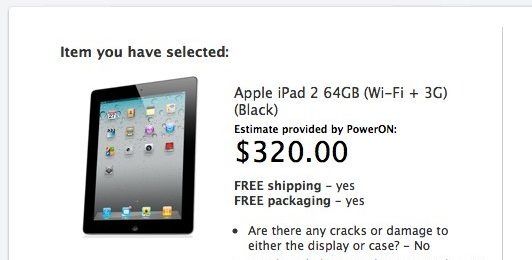 Apple is offering up to $320 trade-in value for its superseded iPad 2 tablet, adding the second-gen slate to its Reuse and Recycling program ahead of the new iPad hitting stores on Friday. For those not planning to keep their old iPad, sell it separately or hand it down to a lucky friend or relative, the trade-in scheme promises an Apple gift card in return for fully-functioning older models.
For an undamaged iPad WiFi 16GB with no "light to moderate scratches or scuffs on either the display or case", no cracks or damage, and no water damage, Apple – and trade-in partner PowerON – is offering $205. At the other end of the range, if you have a 64GB iPad WiFi + 3G in the same top-notch condition, you'll be offered $320.
All trade-ins have to be accompanied by the power cord and be wiped beforehand, though Apple doesn't demand the paperwork and original packaging. You can also expect a big dip in value if you had your iPad 2 engraved: the same 64GB WiFi + 3G model with a custom message on the back only nets $180, a full $140 less.
The online figures are described as estimates, and PowerON – which sends out free packaging and stumps up for the return shipping – decides exactly how much you get after it has the chance to check the tablet out. Whether you'll make more selling privately is arguable, but the simplicity of Apple's system will likely prove appealing.
More on the new iPad in our full review.[Thanks to everyone who sent this in!]