Apple News could become your next monthly subscription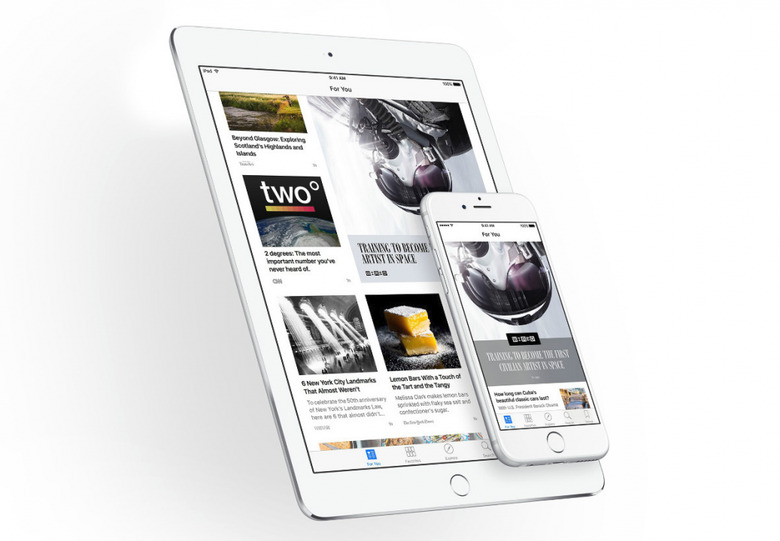 Apple Music is an initiative that seems to be working out pretty well, so naturally, word on the street is that Apple is now considering other subscription services. According to new reports, Apple News will be the next service to get the premium subscription treatment, with Apple looking to leverage one of its recent acquisitions. This service could be launched as an extension of Apple News, and it might be ready for prime time within the next year.
So says Bloomberg, which spoke to "people familiar with the matter" who asked not to be name because this information isn't public yet. Apple is looking to put last month's acquisition of Texture to use almost immediately, building a subscription-based news service on the company's existing infrastructure. Texture, for those of you who don't yet know, is a service that allows its users to subscribe to around 200 magazines for $9.99 per month.
Rumor has it that Apple let around 20 Texture employees go at the time of the acquisition, integrating the rest with its Apple News team. Instead of offering standalone subscriptions to individual publications – as it used to do with Newsstand – it sounds like this will be an all-you-can-eat affair. That is to say, users will pay a monthly fee to access as much or as little content as they want through Apple News, with a cut of monthly subscriptions going to publications.
At this early stage, there's no word on which publications might be included or how much a monthly subscription will cost. Still, we can make a few educated guesses, especially when it comes to price. $9.99 seems to be the sweet spot for these monthly subscription services, and Apple has found a lot of success charging that amount for Apple Music, which recently celebrated hitting 40 million subscribers.
Apple has ambitious plans to generate significant revenue from online services, such as Apple Music, iCloud, Apply Pay, and this rumored Apple News revamp, so to see it considering more premium subscriptions isn't really a shock. It'll be interesting to see what a premium subscription to Apple News looks like – and how much of Texture remains intact after Apple retools it for its own purposes – and with this service said to launch within the next year, we might not have much longer to wait. Stay tuned.