Apple May Let You "Pour" Files From One Device To Another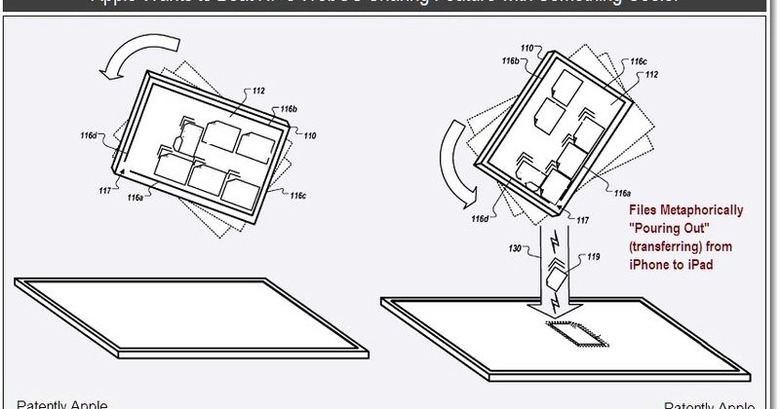 A new Apple patent application has surfaced that reveals some creative ideas the company has for file transferring. You may soon be able to literally "pour" your files from one iOS device to another or "vacuum" it back up by gesturing. The concept is to use physical gestures in combination with sound effects and onscreen animation to create an easy and intuitive physical metaphor for moving files between devices.
Patently Apple dug up the patent application, which they say was filed over 18 months ago. One illustration shows files being metaphorically poured from an iPhone-like device to a tablet. The screen on the iPhone shows files gathering towards the bottom corner of the screen as the device is being tilted to simulate a pouring out of the files.
We've already seen tapping together two NFC-enabled devices as way of transferring data and even swiping photos from a tablet at a TV to transfer the image there, but this Apple patent application takes it to a whole new level. It will use the accelerometer, gyroscope, and perhaps NFC (when it becomes available on Apple devices) along with sound effects and interface animation.
Other interesting Apple patent filings surfaced yesterday including a stylus for the iPhone and iPad as well as a selectively transparent iPad display for augmented reality features.
[via Patently Apple]