Apple Mastered for iTunes pushes quality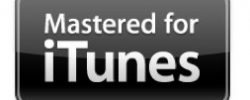 Apple has quietly launched Mastered for iTunes, a push to deliver music "exactly as the artists and sound engineers intend it to be heard", though the company maintains that iTunes Plus 256kbps AAC files are still sufficient rather than lossless. In an updated guide to sound engineers and others involved in producing music for digital distribution, Apple outlines the new "Master for iTunes droplet" which can be used to create high-quality iTunes Plus files from AIFF or WAVE masters.
"The Droplet creates an AAC audio file from an AIFF or WAVE source file by first generating a CAF (Core Audio File) rendered with an iTunes sound check profile applied to the file. If the sample rate of the source file is greater than 44.1 kHz, it's downsampled to 44.1 kHz using our mastering-quality SRC. Next, it uses this newly rendered CAF to render a high quality AAC audio file. Once the final AAC audio file is generated, the intermediary CAF is deleted" Apple Mastered for iTunes guide
According to Apple, the droplet is the same tool that its own engineers use to create audio files for iTunes. The rest of the company's technical brief [pdf link] covers the final checks, tests and tweaks that can be undertaken to make sure music is of its best possible quality.
"Because iTunes Plus is a highly portable format, its files have the potential to be listened to in a wide range of different settings. So while one listener may be using white earbuds while riding in a loud subway car, another may wind up listening intently to a Bach cantata on AirPlay‐equipped Bowers and Wilkins speakers or on a similarly equipped Denon receiver in a home media room. Just as likely, a college student may be deep into Miles Davis' Sketches of Spain while sporting Dre Beats headphones in the campus library. Keep in mind that Apple has sold more than 250 million iOS devices, and that many, many people around the world are listening to music on their iPods, iPhones, or iPads" Apple
The promise for the end user is a better standard of audio quality, of course, with Apple looking to corner the market in top-spec tracks. There's also an advantage to polishing compressed tracks rather than going straight to lossless, uncompressed ones: they're smaller files for Apple to host, and require shorter download times, handy given Apple will be distributing them not only at the point of purchase but when streaming via iCloud.
[via Twitter]