Apple March 27th event will put spotlight on education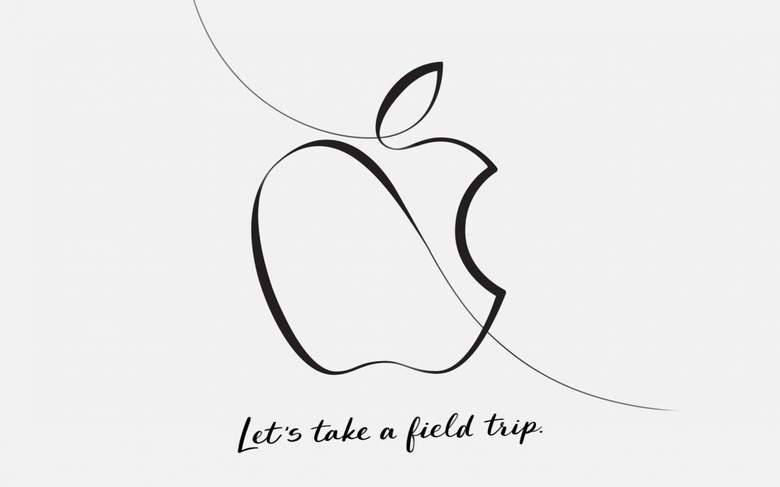 Apple has announced an unexpected event on March 27, focusing on education and to be held at a high school in Chicago. Rather than bring media to Cupertino and Apple Park, as the company did last year for the unveil of the iPhone X, this new event will take place in the midwest.
"Let's take a field trip," Apple's tagline for the event suggests, along with promising "creative new ideas for teachers and students." Beyond that, there's little to tease what the company might have in the works. The graphic for the event is the familiar Apple logo, sketched out as if by hand.
That may well point to something Apple Pencil related, and in turn to iPads. Apple is believed to be working on an even cheaper tablet, looking to raise the pressure on Google's Chromebooks and get its teeth further into the classroom market. Currently, the cheapest iPad is $329, though it lacks Apple Pencil support. For that, you need the iPad Pro, which starts from $649.
At the same time, we've also heard plenty of recent speculation and rumor about Apple's notebook plans. Most pressingly, the company is said to be working on a new 13-inch MacBook, which would effectively replace or supplant the aging MacBook Air. Like the rest of the line-up, it would have a Retina display, according to sources in the supply chain.
What it would keep, or so it's believed, is the MacBook Air's competitive starting price. Indeed, it's possible Apple could push that price even lower, potentially even starting it at around $799. The current MacBook Air begins at $999.
Then there's software. Apple has, in recent years, increased the number of apps and services it offers to the education market. Schools can use Apple-made tools to teach programing, for example, with an Everyone Can Code curriculum that's based on lessons organized through iPad and Mac. Swift Playgrounds uses the iPad to teach Apple's favored programming language, along with tutorials for young coders to follow.
iTunes U, meanwhile, has a wide range of pre-made educational content, but also allows teachers to develop their own lessons. There's a Classroom app, too, which allows a teacher to keep track of a whole class of students from a single interface, including assigning and receiving projects and other work.
Apple's big March 27 event is likely to touch on all of that, as it sets out its education stall in the face of Chrome OS and Microsoft's Windows 10 S Mode offensive. We'll know more in Chicago on March 27.