Apple makes second attempt at Trojan Java block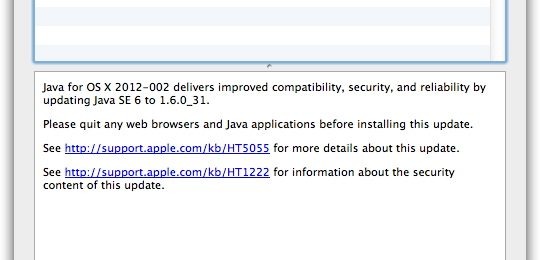 Apple has released a second Java update as it attempts to block the Flashback trojan threatening Mac users. The second version, spotted by security firm Intego, is listed as "Java for OS X 2012-002" – its predecessor, pushed out earlier this week, was 2012-001 – and is only for OS X Lion 10.7 machines, rather than for Snow Leopard and Lion as before.
Apple does not specify what changes have been made between the two versions, and in fact the related support documentation still refers to the initial release. Still, if you're running Lion then you should update to the latest iteration as soon as possible.
The other suggestion is that Mac users – and their Windows counterparts, for that matter – disable Java on their computers. F-Secure gives instructions on how to do that in OS X, but it's generally a case of going to Applications > Utilities > Java Preferences and then deselecting anything showing up under the "General" tab.
If you want to check whether your Mac has already been infected, meanwhile, there are straightforward instructions for manual cleanup here. It requires a little work in Terminal but it mainly just copying and pasting, then watching for what responses you get back.