Apple Major Product Launch Possible for Next Week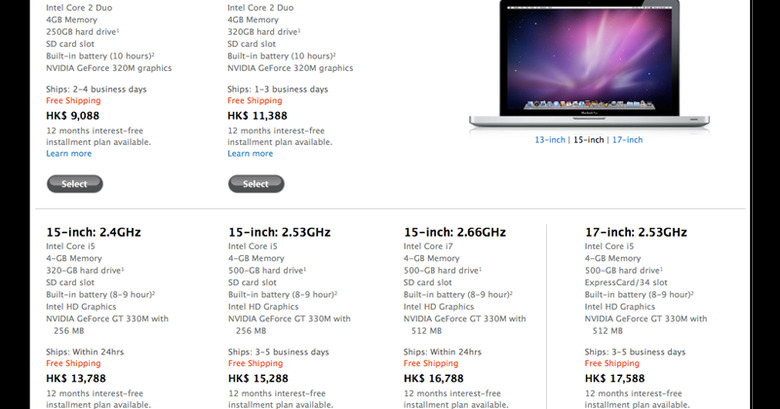 It appears that a source "familiar with the matter" has come forth to AppleInsider to spill the dish on some big fat Apple news about what might be a product launch next week. This release might have to do with inventory levels of the MacBook Pro or because Apple fans are ravenous as ever, either way it appears that rumors for two weeks from now are bunk, and next week is the source of heavenly Apple light. This meeting or press conference might well be the place where the next generation of MacBook Pros originate, and that'd be alright with yours truly as this 2007 MacBook is just about to hit the bin.
Included in the hints handed to our pals over at AppleInsider today were notes on the possible inclusion of Sandy Bridge processors as well as enhancements to the notebook line that include a unibody chassis redesign. Furthermore, Italian tech blog iSpazio has received part numbers for several new notebooks to be released by Apple including two 13-inch models, three 15-inch models, and one 17-inch model. The numbers iSpazio received where the following: MC720, MC721, MC723, MC724, and MC725.
An interesting additional note from AppleBitch includes a change in shipping times to customers, moved from 24-hours to between 1 and 5 days. The change from one to five is being seen in Hong Kong, Vietnam, Taiwan, and Malaysia. AND earlier this month, again according to AppleInsider, US customers were beginning to hear of a wait time of between 4 and 6 weeks for replacements to build-to-order machines, with custom-configuration replacement requests possibly having to wait for up to eight weeks.
What does it all add up to? Some sweet new laptops with bright shiny screens, faster processors, and some sort of extra feature that will blow everyone's socks off. Or it could just be a new line of laptops that are just a little bit better, maybe with some sort of cosmetic improvement. Whatever it is, it's coming inside two weeks, maybe one. Get your waiting caps on and make sure you have plenty of bandwidth for all the Apple blogging you'll be doing.