Apple MacMall and Best Buy discounts compared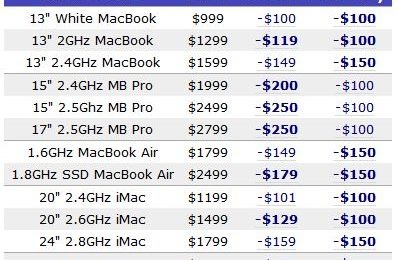 We may be a least a day or so away from Black Friday, but the cut-price Apple hardware-fest is already underway.  The Cupertino's own sale is for one day only, and we won't know exactly what's on offer until Friday, but Best Buy have been selling discounted Macs since Monday and MacMall have just kicked off their own promotions.  Rather than wade through the deals yourself, MacRumors have put together a summary of where the bargains are.
There's no clear winner: Best Buy come out on top for some of the items, while MacMall beat them on others.  Biggest bargains are the 2.4GHz and 2.5GHz 15-inch MacBook Pros, with a smudge over 10-percent off their MRSP.
Something to remember is that Best Buy's discounts are all instant, and require no work on your part, while MacMall's are a combination of instant reductions and mail-in rebates.  On the plus side that can add up to bigger savings, but it does leave some work for you.  Still, if you've been considering a new Mac, it's a useful chart to have in hand to compare against Apple's own deals on Friday.