MacBook & MacBook Pro $100 Discount At Best Buy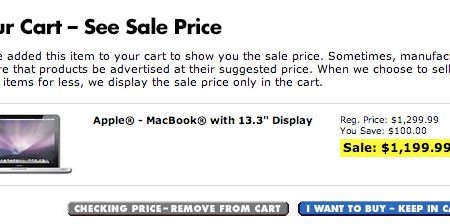 Best Buy have begun selling MacBook and MacBook Pro laptops with $100 discounts from the list-price.  The deal is not limited to the older plastic MacBook, but the new late-2008 unibody aluminum version and its more powerful Pro sibling.  According to some sources, Apple stores will be matching the Best Buy pricing "for the next few days".
The situation is unusual because Apple hardware seldom is seen at below-MRSP levels.  Apple is particularly strict about pricing, and there's usually no good reason to shop around.  It's unclear whether this move by Best Buy has had Apple's blessing or even if the company was aware of it before the promotion launch.
It seems likely that Best Buy are looking to present a strong challenge to suggestions that holiday sales this year will be poor.  No indication of how long the sale prices at Best Buy will last, so if you've been thinking of picking up a new MacBook or MacBook Pro then now looks like the time to do it.
[via Gizmodo]