Apple MacBook and MacBook Pro Could Show Up Next Week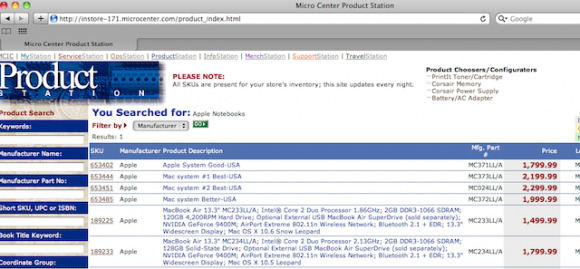 Hey, do you want a new MacBook? How about a new MacBook Pro? Have you been waiting just as long as everyone else for a refresh to the current lineup? Well, if that description fits you pretty well, then do we have some good news for you. Some model numbers showed up today, thanks to the Microcenter purchasing center, and if history repeats itself, then it looks like next week could be another big week for Apple.
"Apple System Good-USA," "Mac System #1 Best-USA," "Mac System #2 Best-USA," and "Mac System Better-USA" all show up plain as day in the system, and they range in price from $1,799.99 to $2,299.99, which is perfectly placed to fit nicely with the current generation of MacBooks and Pros out there. According to the person who stumbled upon the find, this same situation came up last November, exactly a week before the official launch.
As we mentioned above, this happened before, so we're leaning more towards the fact that this may, in fact, lead us to some new hardware very soon. So, what's the big deal? Well, we can expect some Core i7 goodness, that's for sure. At least, we've got our fingers crossed that that's going to happen. Let's hope that we get some official word from Apple sooner than later, as we can imagine that there's plenty of people waiting (im)patiently to upgrade.
[via Ars Technica]