Apple Mac Pro gets 3.33GHz Xeon and 2TB options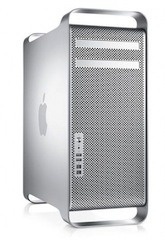 Apple have quietly updated their Mac Pro desktop systems, adding a new processor option together with greater storage.  Buyers looking for the most powerful Mac Pro around are now able to specify a 3.33GHz Intel Xeon quad-core CPU, which is a whopping $1,200 on top of the regular machine.  The new CPU joins the existing entry-level 2.66GHz Xeon and 2.93GHz Xeon, the latter of which is a $400 option.
As for the storage tweak, there's now a 2TB SATA 3Gb/s 7,200rpm hard-drive option, priced at $350, in addition to the previous 640GB and 1TB drives on offer.  The new 2TB drive has 32GB of cache, and is also available on the Apple Xserve server.
It's not yet possible to specify two of the 3.33GHz Xeon processors in Apple's 8-core Mac Pro, which still only offers 2.26GHz, 2.66GHz and 2.93GHz options.  Apple have been tipped to release a 6-core, 12-thread Xeon (Gulftown) processor (built on 32nm processes and with 12MB of shared cache) in early 2010.