Apple likely to lose ebook price-fix case hints judge before trial even starts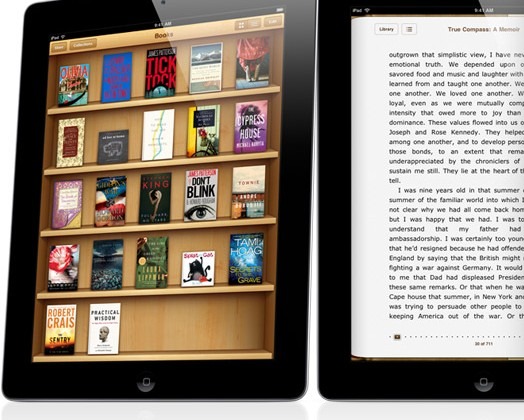 Apple is unlikely to be able to counter evidence that it conspired with publishers to inflate ebook prices, the federal judge overseeing the case has said in a surprise pre-trial comment, though the Cupertino firm vehemently disagrees. The case, set to be heard from June 3, sees the US Justice Department allege Apple along with five big name publishers aimed to raise the price of ebooks for the launch of iBooks. Apple is the final hold-out, after the publishers settled with the DoJ, but according to US District Judge Denise Cote, Reuters reports, the evidence prepared seems sufficiently damning.
The comments were made on Thursday this week, at a pre-trial hearing to decide on aspects like expert witnesses along with how long the case was expected to last. However, Justice Cote made waves by announcing that she had already been working on the draft of the final written decision – which would be published after the trial had been completed – and agreeing to give participants an insight into which way she is already leaning.
"I believe that the government will be able to show at trial direct evidence that Apple knowingly participated in and facilitated a conspiracy to raise prices of e-books," the judge said, "and that the circumstantial evidence in this case, including the terms of the agreements, will confirm that."
Cote described her stance as a "tentative" view of the case, pointing out that it had been based for the most part on evidence the DoJ had submitted. However, it did not take into account affidavits submitted both by the DoJ and Apple.
Unsurprisingly, Apple isn't impressed by Cote's comments. "We strongly disagree with the court's preliminary statements about the case today," lawyer Orin Snyder said, going on to suggest that Apple's own evidence would sufficiently counter that of the Justice Department. "We look forward to presenting our evidence in open court and proving that Apple did not conspire to fix prices," he concluded.
The Cupertino firm is the final hold-out in the case, after the five publishers agreed at various points over the past year to cough up penalties. Simon & Schuster, HarperCollins, and Hachette Book Group all rolled over immediately, followed by Pearson in December 2012, and MacMillan in February.
Justice Cote's early stance is being interpreted by some as an attempt to pressure Apple into settling, likely without necessarily accepting blame; MacMillan, for instance, said that it had capitulated "because the potential penalties became too high to risk even the possibility of an unfavorable outcome."
Apple's deeper war chest may make it a tougher nut to crack that way, however. Apple CEO Tim Cook is expected to appear to give evidence, among others, after the DoJ convinced the court that his conversations with Steve Jobs give him unique insight into the case.