Apple now has nearly 1,000 Best Buy stores where Apple products can get authorized service, the Cupertino company has announced today, the milestone promising much easier aftercare for those people not close to an Apple Store. It means Apple authorized service is now available in every Best Buy store across the US.
In addition, the Best Buy Geek Squad has almost 7,600 Apple-certified technicians, the company says. It means that Best Buy can offer services like same-day iPhone repair – to Apple's standards, and with the same warranty – that you'd get in an actual Apple Store.
That's important, because the days where you could fix your own electronics are long behind us. Apple's smartphones have never had removable batteries, true, but earlier versions of the iPhone were more user-friendly when it came to replacing displays or fixing broken ports. Now, though, the increasingly sealed-up and locked-down designs – a byproduct, in part, of Apple looking to make even thinner, lighter handsets, without sacrificing features – means DIY repairs are almost impossible.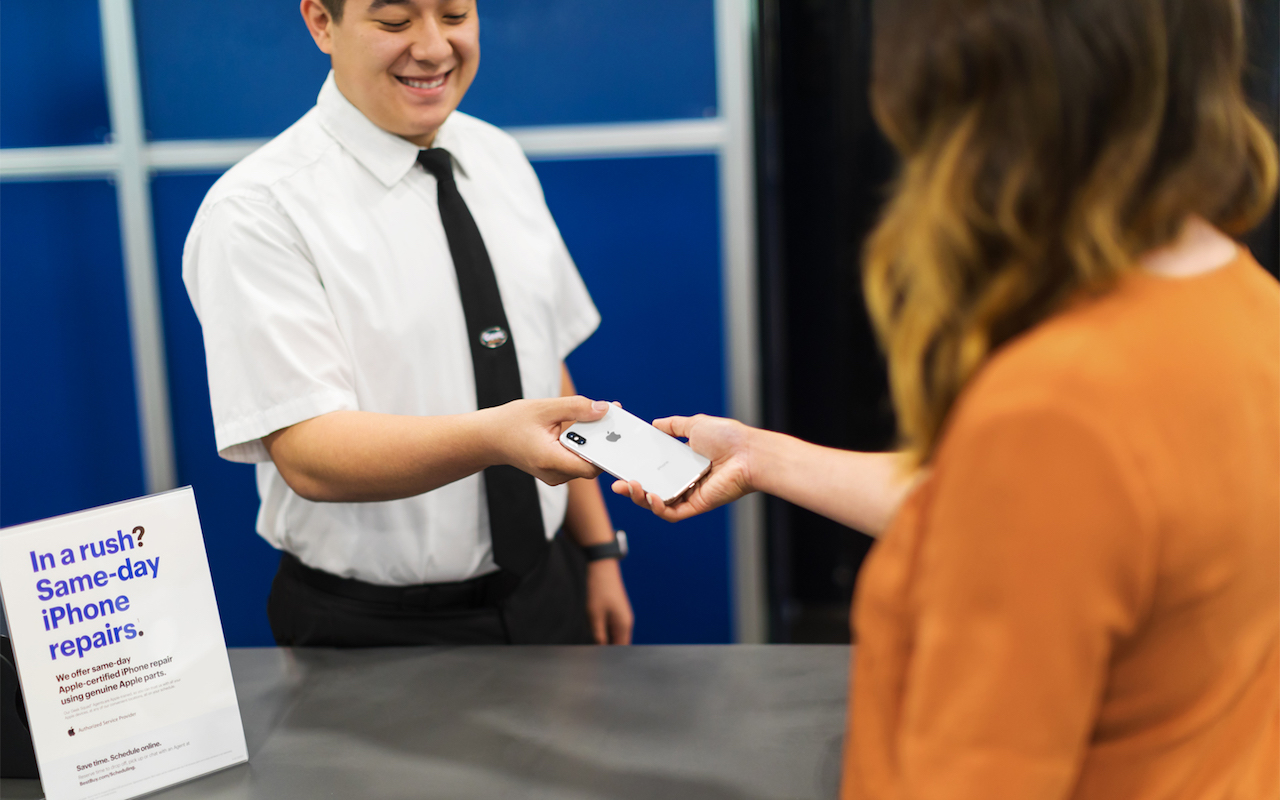 At the same time, the cost of those official repairs hasn't been getting cheaper. Accidentally smash your iPhone XS Max display, for example, and Apple will charge you $329 to switch out the screen. An iPhone XS screen repair will cost $279. Even the iPhone XR, Apple's "budget" model launched in 2018, has a hefty $199 fee for a screen repair. Best Buy charges the same fees that Apple has set.
Battery replacement is, at least, more affordable than that. If the phone is in warranty, for example, or covered by an AppleCare+ plan, Apple won't charge for battery service. An out of warranty battery swap, however, costs $69 on the iPhone X, iPhone XS, iPhone XS Max, and iPhone XR. For earlier iPhones, the cost is $49.
Apple's partnership with Best Buy, though, was more about access to service than it was the cost of it. While there are 271 official Apple Stores in the US, that still leaves some customers several hours of driving away from their closest location. In the past, that has meant either a roadtrip to reach that store, or mailing in a device and then waiting for it to be returned – galling, if you're looking for service that could be completed same-day.
Best Buy's close to 1,000 stores brings Apple's total of third-party Apple authorized service providers in the US to more than 1,800. It's a three-fold increase over the number of locations just three years ago, the company points out, and means one in five Apple customers are now within 20 minutes of an authorized provider.