Apple iTunes Rewind 2010 highlights hot trends in iOS apps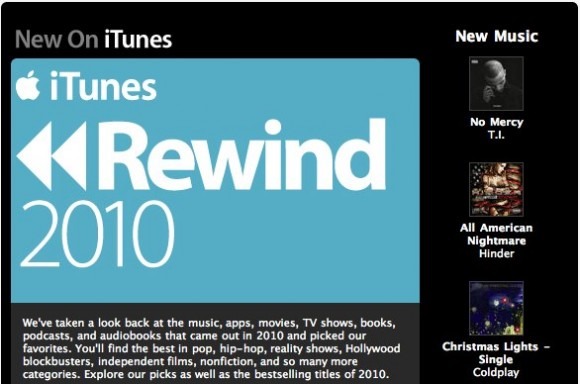 Apple has released its iTunes Rewind 2010 summary of the "hot trends" of 2010, together with the best selling apps for its various iOS platforms. A new addition to the round-up is the iPad, freshly launched to the market in 2010. Among the highlights are Angry Birds, which clinched the top position in iPhone/iPod touch paid apps, while the official Facebook app grabbed first place among the free apps category for the smaller-screen devices.
Meanwhile, over on the iPad, the top paid app was word processing tool Pages, while the top free app was Apple's own iBooks ereading software. Amazon's Kindle app for iPad only managed eighth place.
As for trends, Apple reckons "shoot, edit, share", "augmented reality", "new news" and "the cloud" are all key areas for apps, among others. While it's good to keep track of the popular titles, it's also useful to see some curation in the bulging App Store, something that Apple has been asked to do repeatedly over the past year or so.
Top 10 paid apps (iPhone/iPod touch)
1. Angry Birds

2. Doodle Jump

3. Skee-Ball

4. Bejeweled 2 + Blitz

5. Fruit Ninja

6. Cut the Rope

7. ALL-IN-1 GAMEBOX

8. The Moron Test

9. Plants vs. Zombies

10. Pocket God
Top 10 free apps (iPhone/iPod touch)
1. Facebook

2. Angry Birds Lite

3. Words With Friends Free

4. Skype

5. Tap Tap Revenge 3

6. The Weather Channel

7. Paper Toss

8. Bing

9. ROCK BAND FREE

10. Talking Tom Cat
Top 10 grossing apps (iPhone/iPod touch)
1. MLB.com At Bat 2010

2. Angry Birds

3. Call of Duty: Zombies

4. Bejeweled 2 + Blitz

5. FriendCaller 3 Pro

6. Zombie Farm

7. TomTom U.S.A.

8. TETRIS

9. Plants vs. Zombies

10. Doodle Jump
Top 10 paid apps (iPad)
1. Pages

2. GoodReader for iPad

3. Numbers

4. Angry Birds HD

5. Keynote

6. Glee Karaoke

7. WolframAlpha

8. Pinball HD

9. Friendly for Facebook

10. Star Walk for iPad
Top 10 free apps (iPad)
1. iBooks

2. Pandora Radio

3. Netflix

4. Google Mobile App

5. Solitaire

6. Movies by Flixster

7. IMDb Movies & TV

8. Kindle

9. Google Earth

10. Virtuoso Piano Free 2 HD
Top 10 grossing apps (iPad)
1. Pages

2. Numbers

3. Keynote

4. LogMeIn Ignition

5. SCRABBLE for iPad

6. Documents To Go Premium

7. Angry Birds HD

8. Real Racing HD

9. Plants vs. Zombies HD

10. Proloquo2Go