Apple iPhone OS 4.0 liveblog now underway!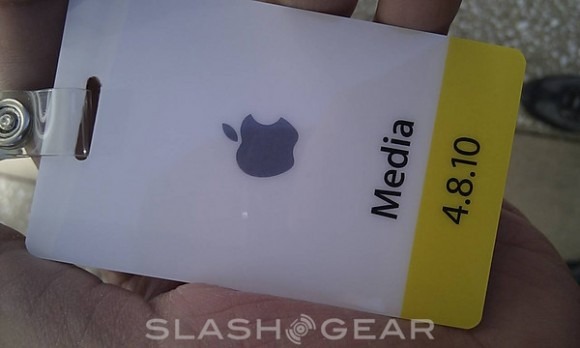 It's Thursday April 8th and SlashGear is at Apple HQ bright and early waiting for the iPhone OS 4.0 "Sneak Peek" event to begin.  It's something of a surprise – and definitely short notice, even for Apple – coming so soon on the heels of the iPad launch last weekend, and we've got high hopes for what might be on the cards today.  We're liveblogging the whole event at http://live.slashgear.com/ so join us as we find out exactly what Apple have in store.
Top of the list is multitasking support, or at least some form of background app support.  It's been a long-awaited feature on iPhone OS just on the smartphone itself, but now people are getting to grips with the iPad the need to run several apps simultaneously seems all the more pressing.  There's plenty of discussion as to how exactly Apple might deliver it, too: will it be true multitasking, like you'd find on a desktop computer, or will they simply allow certain types of app – streaming music, IM and Twitter, for instance – to stay alive while you're churning through your Mail inbox?
We won't know until Apple take to the stage later on this morning, and with less than an hour ago we're keen to see exactly what surprises await.  Come follow the news as it's announced over at http://live.slashgear.com!