Apple iPhone OS 3.0 beta 5 released: MMS hole closed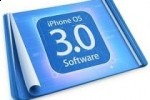 Apple have pushed out the next release of iPhone OS 3.0, beta 5, little over a week after beta 4 was made available to developers.  Early feedback suggests that the new release may be more about locking down security than it is adding features or increasing stability: one of the more obvious changes is that MMS can no longer be activated.
Other changes Apple have made include disabling the ability to update the iPhone's carrier file; the option was available in beta 4, but is grayed-out in beta 5.  However tethering is still functional, and there are other new tweaks such as a trashcan icon appearing in landscape orientation apps (previously only occurred in portrait) and the return of the SMS sending sound.
There's also a warning from Apple that some users may find their 3G data service no longer functions after installing beta 5.  No word on exactly why this might happen, but such users are advised to call the Apple developer support line, and we've a feeling they won't be too helpful to anybody using unofficially-obtained versions of the new firmware.
Known Issues

A small set of AT&T customers may experience data services that stop working  after installing iPhone OS 3.0 beta 5 on a device. If you experience this problem  with a device that worked properly before the beta 5 update, please call the  developer support line at 1-800-xxx-xxxx for help restoring data services.
[via iPhone Buzz]