Apple iPhone 4S, 4, and 3GS versus Android
Apple officially unveiled the iPhone 4S during its Let's Talk iPhone event today, now giving us three models to choose from at three distinct price points. With new two-year contracts, the iPhone 3GS is free, the iPhone 4 is $99, and the iPhone 4S ranges from $199 to $399 depending on storage capacity of 16GB, 32GB, or 64GB. With plenty of variety and competition from Android, let's take a look at some iPhone alternatives in these three tiers.
The iPhone 4S has turned out not to be the dramatic iPhone 5 revamp as most had hoped. However, it does feature a more powerful A5 dual-core processor, said to be twice as fast as the previous CPU with 7 times faster graphics. It also has an 8-megapixel rear-facing camera that boasts speedy snapshots, which Apple touted as being faster than rivals HTC Sensation, Droid Bionic and the Samsung Galaxy S II.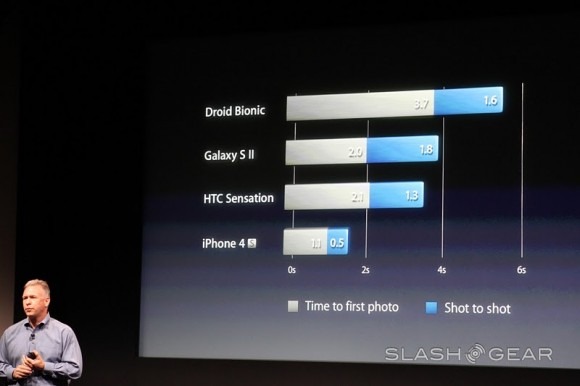 The Samsung Galaxy S II is certainly the top alternative to the iPhone 4S at the moment and it's heading to T-Mobile, AT&T, and Sprint priced about the same as the 16GB iPhone 4S at $199. The Samsung device also rocks a dual-core processor, 8-megapixel rear-facing camera, and a better 2-megapixel front-facing camera. It also features a larger 4.3 to 4.52-inch display (depending on carrier), thinner and lighter chassis, and is NFC-equipped. Apple's iPhone 4S has disappointingly stayed with the 3.5-inch display, no NFC chip, and no 4G support.
Make sure to check out iPhone 4S vs Galaxy S II vs HTC Sensation vs DROID BIONIC vs G2x for a more in depth comparison of the iPhone 4S and rivals in its tier.
The iPhone 4 at $99 has a bunch more similarly priced Android alternatives and in this category the hardware comparisons leaves the handset looking rather mediocre. For instance, with the same $99 you can get AT&T's LG Thrill 4G with far superior specs, including a faster dual-core processor, larger 4.3-inch display, and even a dual-array of 5-megapixel cameras capable of 3D video and still capture, if you're into that kind of thing. Other $99 alternatives include the HTC Inspire 4G, Samsung Infuse 4G, and the Samsung Galaxy S.
As for the free iPhone 3GS, its in a pool with Android contenders such as Verizon's Sony Ericsson Xperia Play, T-Mobile's HTC Wildfire S, and AT&T's Pantech Crossover. None in this category are particularly appealing, although the Xperia Play does offer unique slide-out gaming controls, but hey they're free and the choice ultimately becomes a platform preference.
So which iPhone alternatives would you recommend? Let us know your buying tips in the comments!