Apple iPad up for preorder now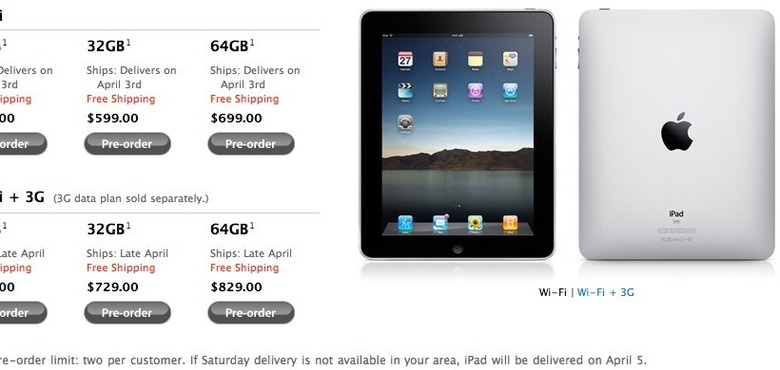 The Apple Store is back, and as expected the iPad is available for preorder.  Apple's touchscreen tablet is currently available to order in its WiFi-only form, priced from $499 with 16GB of flash storage.  Orders placed today are expected to ship on April 3rd in the US.
However, while Apple Stores worldwide went down, only the US one is actually accepting preorders.  In fact the updated store is still to confirm pricing for the iPad outside of the US, something which Apple have proved reluctant to tell us about.
Of course, if you want a 3G-enabled version of the iPad – which uses an unlocked GSM modem (with AT&T compatible bands, though not T-Mobile USA) and a microSIM card – you'll have to wait a little longer.  Those models are set to arrive in late-April 2010, priced at $629, $729 and $829 respectively for the 16GB, 32GB and 64GB models.  So, who's preordering today?  Let us know in the comments.