Apple iPad to control tablet market until 2013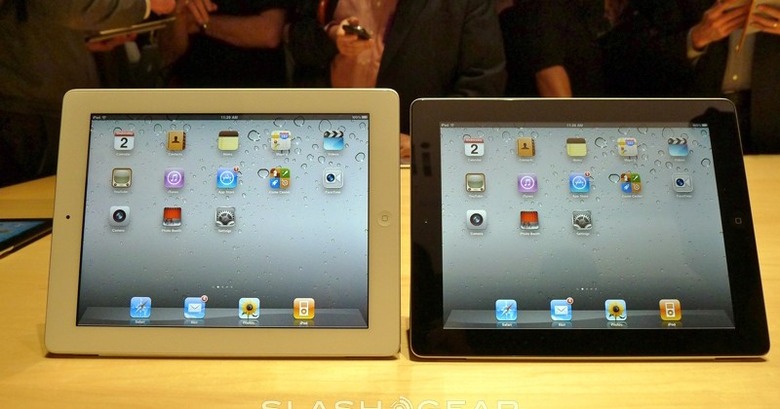 Research firm IHS iSuppli has revised their forecast for media tablets, now pegging Apple's control of the tablet market to continue through 2013. With tablet competitors like Android continuing to struggle and the recent surrender of the webOS-based HP TouchPad tablet, Apple is taking advantage of the situation by increasing its iPad shipments at a faster rate than expected.
Apple is expected to ship 44.2 million iPads in 2011, which is higher than the previous forecast of 43.7 million. The forecast for iPad shipments in 2015 has also been increased to 120.1 million units, up from the previous outlook of 97.9 million. As for market share in media tablet shipments, Apple is expected to account for 74 percent in 2011 and 43.6 percent in 2015, up from the previous predictions of 64 percent in 2011 and 32 percent in 2015.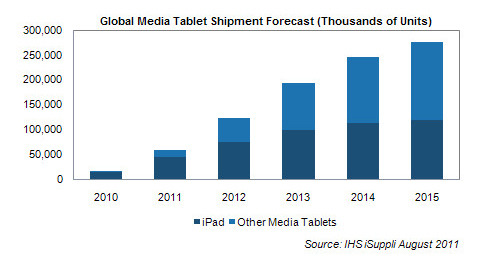 Overall, global media tablet shipments are expected to rise 60 million units in 2011 and soar to 275.3 million units in 2015. That estimate for 2015 is a 13.2 million increase from the previous forecast, and it's interesting to note that the overall growth is still less than the 22 million increase from Apple alone in 2015.
IHS senior manager of tablet and monitor research Rhoda Alexandar says:
"All the momentum in the media tablet market is with Apple right now. The competition can't seem to field a product with the right combination of hardware, marketing, applications and content to match up with the iPad. Furthermore, Apple's patent litigation is serving to slow or complicate competitors' entry into some key regional markets. With Apple lapping its competitors, many of whom are still struggling to get out of the starting gate, this remains a one-horse race."
The report comes amidst concerns for Apple's future as the company's iconic CEO Steve Jobs has resigned yesterday evening. New Apple CEO Tim Cook, who has been with the company for 13 years and has contributed to much of the company's success as COO had released his first company-wide email addressing Jobs' resignation and to assure employees that nothing is going to change. It will be interesting times ahead to see if competitors may be able to take advantage of this transition to make some gains in the tablet market.
[via iSuppli]