Apple iPad tablet to run iPhone OS, 3G & non-3G versions tipped?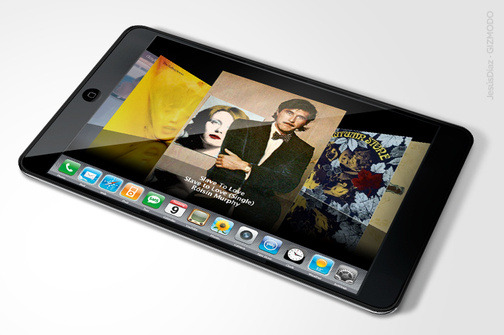 It's not all Microsoft's Courier grabbing tablet headlines today; Apple's touchscreen tablet is also making waves, with iLounge claiming to have more insider news on the upcoming device.  According to their sources, there have been three separate prototypes of the device they're calling the "iPad", starting with a 7-inch display which was then junked for a larger, 10.7-inch capacitive touchscreen running at around 720p resolution.
The hardware – which resembles an overgrown iPhone, complete with curved back – will run the iPhone OS, and come in two different versions they claim.  One will have 3G integrated, the other just WiFi, but both will be media- and internet-centric; Apple apparently envisage the iPads not only continuing to offer their existing media, gaming, app and browser functionality, but also taking bites out of ebook and e-magazine markets.
What it won't do, though, is take on netbooks, with the iPad being described as a "light communication device" and "iPhone OS media player".  They suggest it's 80-percent likely to reach the market, with just Steve Jobs standing in the way of a release; assuming he says yes, the iPad will be announced on or before January 19th 2010, with a release in May or June.