Apple iOS 5 Tech Talk 2011 tour set for 9 cities around the world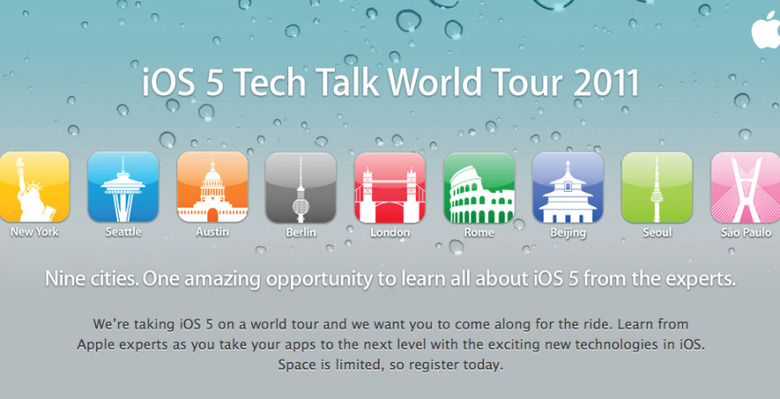 Between the months of November and January Apple will be re-birthing their Tech Talk World Tour with an iOS 5 focus, tutorials, talks, and more set to fill the global events. There's a brand new page up at Apple showing off that there will be limited space at each event and that all iOS Developer Program members are more than welcome to attend. Limited space means that Apple will be giving priority entry to those developers who have n app currently available at the iTunes iOS App Store. The first location will be Berlin and will take place on November 2nd, 2011, and the last will be right down at the lower end of the United States in Austin, Texas, on January 23rd, 2012.
Experts from all over the iOS world will be in attendance at these events which will be taking place in Europe, Asia, and the Americas. There are three stops inside our home turf here in the USA, one in New York, another in Seattle, and another in Austin. Have a look below to see when you'll be going, and feel free to let us know if you're prepping your hotel room already! Apple infamy awaits you all, all you developers of iOS magic:
• Berlin, Germany – November 2, Maritim ProArte Hotel Berlin

• London, United Kingdom – November 7, Kings Place

• Rome, Italy – November 9, Rome Marriott Park Hotel

• Beijing, China – December 5, Renaissance Beijing Capital Hotel

• Seoul, South Korea – December 8, Kintex

• São Paolo, Brazil – January 9, Sheraton São Paulo WTC

• New York City, New York – January 13, Millennium Broadway Hotel Times Square

• Seattle, Washington – January 18, Hilton Seattle Airport and Conference Center

• Austin, Texas – January 23, Austin Convention Center
NOTE: The NYC event is already FULL at the time of this posting. Amazing!
Apple notes that each event takes essentially the same schedule with a morning kickoff at 9AM with a class for iPhone and iPad UI design starting at 10AM sharp. One our from then at 11AM there's iCloud Storage talks, then a lunch break. In the afternoon there will be a breakup of groups for AirPlay, Newsstand, Game Center, printer support, and iBooks, amongst others. Then of course there's some lovely wine and cheese for everyone at 6PM.
Entry is free, registration is done with your Apple ID associated with your iOS Developer Program Membership, and people are saying that this is the miniature version of the Worldwide Developers Conference (WWDC) for those that live all round the earth. Everybody iOS party!