Apple investigator accused of leading fake police iPhone 5 search

Investigators supposedly claiming to be from the San Francisco Police Department (SFPD), but allegedly in fact private employees of Apple seeking a lost iPhone 5 prototype, have added a new dimension of intrigue to the missing fifth-gen smartphone saga. Sergio Calderón, who lives in Bernal Heights in San Francisco, told SFWeekly that six people wearing unspecified badges visited his home and said they were from the SFPD and had traced, using GPS, a lost iPhone to his home. Calderón claims his immigration status – and that of his family – was questioned in a threatening manner, leading to him agreeing to a search of his house, car and computer.
After failing to locate the missing handset, the so-called officers apparently offered Calderón a deal. "They made it seem like they were on the phone with the owner of the phone," he told the paper, "they said, 'The person's not pressing charges, they just want it back, and they'll give you $300."" When he declined, the group left but not before one – calling himself Tony – handed over his number in case any other information turned up.
SFWeekly called that number and got Anthony Colon, who confirmed that he was in fact an Apple employee. According to Colon's LinkedIn profile – since yanked – the ex San Jose Police sergeant currently works as a "senior investigator" for the Cupertino company. However he declined to comment any further, and Apple is also yet to comment.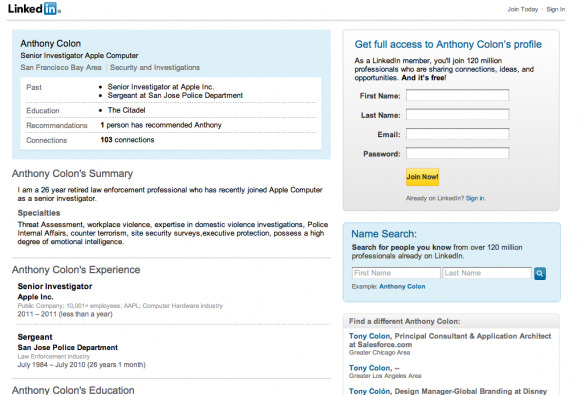 Meanwhile, the actual SFPD has denied being in any way responsible for the search, which was seemingly conducted without a warrant. If Calderón chooses to speak to them officially then they will look into the allegations. "If the person is reporting that people misrepresented themselves as San Francisco police officers, that's something we will need to investigate," SFPD Lt. Troy Dangerfield told the paper. "We take people representing themselves as police officers very seriously."
Suggestions had been made that the missing iPhone 5 was, in fact, the center of a publicity stunt by Apple itself, based on the actual lost fourth-gen handset which was discovered in a bar in 2010. Whether this is another layer of that stunt, or an actual example of Apple's desperation to recover a lost device, remains to be seen.