Apple Introduces Updated 3.3GHz 21.5-Inch "Education-Only" iMac For $1,099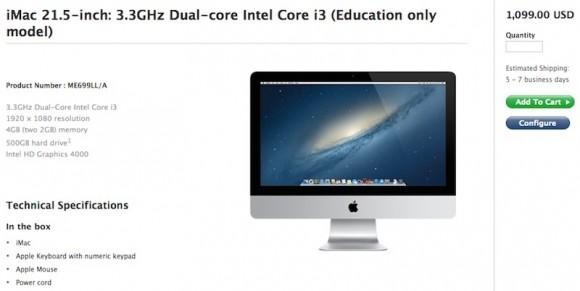 Earlier today, the folks over at MacRumors spotted an updated 21.5-inch iMac marked as an "education only model" with a $1,099 price tag. No one is certain when the updated model was rolled out, as Apple did it quite on the sly with no fanfare or announcement. The updated version features, among other things, a 3.3GHz dual-core Intel Core i3 processor.
This model represents a $200 price drop over the non-educational offerings, obtaining this by utilizing the Core i3, as well as integrated Intel HD Graphics 4000. The iMac is reported as being model #ME699LL/A, and as you might expect, the rest of its specifications are lower than what you get with the consumer model.
The display features full HD 1920 x 1080 resolution, while memory comes in at 4GB of RAM. The hard drive is an adequate 500GB, which may be too low for many consumers but not such a big deal for educational institutions. This model replaces the slightly cheaper $999 iMac that was released for educational use over a year ago.
According to MacRumors, this iMac is available for order now, with shipping times being listed as 5 to 7 business days, a bit on the long side. As we noted yesterday, Apple's new iMac is now shipping in 1 to 3 business days. Note that only educational institutions can buy the model, and it is not available via Apple's educational discount service, which is something else entirely.
[via Mac Rumors]