Apple Indoor Survey app discovered, hints at indoor positioning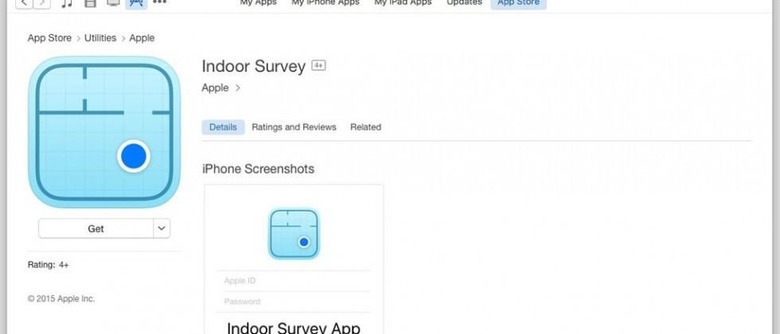 A new app from Apple that snuck its way into the App Store recently has been discovered. Called Indoor Survey, the app is used for indoor positioning, or mapping out the inside of a building or venue using just an iPhone. The app doesn't appear in search results, however, and in order to download it, users must be registered for Apple's Maps Connect program.
Indoor Survey maps an interior location through the use of radio frequency signals in combination with the iPhone's other sensors. The app's description explains that by "dropping 'points' on a map within the Survey App, you indicate your position within the venue as you walk through." As a result, it can allow people to find their position within a location like a mall or arena "without the need to install special hardware."
However, the app doesn't seem to be completely functional at this point, as even if it can be downloaded, it displays an Authorization Failed message after logging in with an Apple ID at the home screen. Indoor Survey could be nearing release though, as it is mentioned on a banner on the Apple Maps Connect website if registered users are logged in. It asks for those who represent certain types of venues to sign up for a new indoor mapping initiative.
It seems likely that Indoor Survey is the result of Apple's 2013 acquisition of WiFiSLAM, which developed technology that used WiFi signals to determine a user's location while indoors. As for the app, the iTunes store page lists it as last updated on October 27th, with a version number of 1.0. Its requirements include an iPhone, iPad, or iPod Touch running iOS 9.
VIA Apple Insider
SOURCE App Store