Apple In-Ear Headphones with mic & remote on sale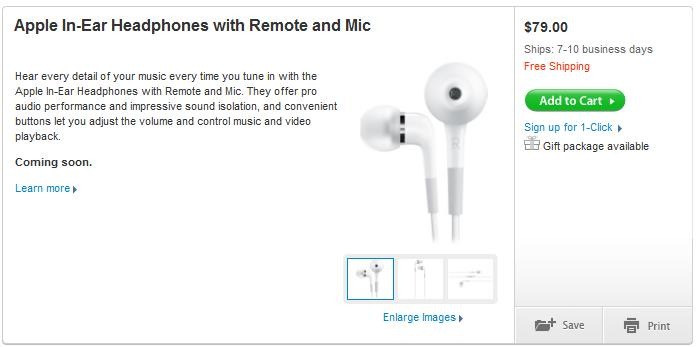 The in-ear headphones Steve Jobs announced back in September have finally gone on sale, complete with a $79 price-tag.  Showing in the Apple store as shipping in 7-10 days, the headset not only includes the in-ear stereo buds but an in-line microphone and "control capsule" that allows you to adjust volume, play and pause music, and skip between tracks.
However, while they'd seem the ideal partner for the iPhone, in actual fact the headphones aren't compatible with the Apple cellphone.  More accurately, while they'll play music, the controls and microphone won't function.  They're only intended for the iPod nano (4th generation), iPod classic (120GB) and iPod touch (2nd generation).
Three silicone ear-tips are included, just in case you have outlandishly large or small ear-canals, and the drivers themselves are protected from aural filth by removable mesh grills.  Two replacement grills are included, just in case the filth really is caked on.  Apple also include a carry case.