Apple iMac Pro Launches December 14: Everything We Know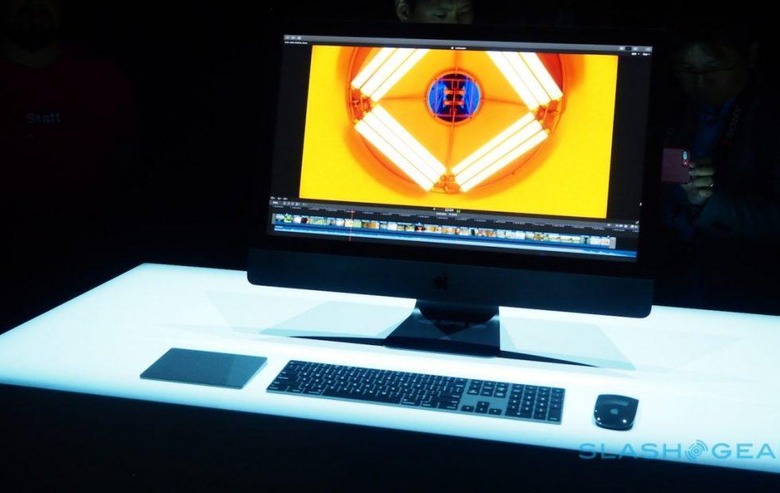 Back at WWDC 2017, Apple unveiled the iMac Pro, a new all-in-one Mac that's packing a lot of power under the hood. In the time since that reveal, other Apple devices have taken most of the spotlight for themselves, namely the iPhone 8/8 Plus and the iPhone X. Apple is drawing focus back to the iMac Pro today, announcing a release date for the iMac Pro at long last.
Apple really seems to want this to be the be-all and end-all of all-in-one desktops. The basic configuration comes packing an 8-core Intel Xeon processor, though you can bump that up to 10 or even 18 cores if you need more power. While it's hard for most of us to imagine pushing an 18-core processor to its limit, these Xeon processors also support Turbo Boost up to speeds of 4.5GHz, letting you squeeze even more power out of them.
READ MORE: iMac Pro hands-onWe see similarly beefy specs elsewhere in the iMac Pro. The base iMac Pro model ships with an impressive 32GB of RAM, though that's configurable up to 64GB or 128GB as well. You'll also be getting at least a 1TB SSD, but 2TB and 4TB options are also available. Finally, you'll have a Radeon Pro Vega 56 graphics card working in tandem with that Xeon processor, with either 8GB or 16GB of HRM2 memory backing it up. Apple points out that this GPU is custom-made for the iMac Pro, further showing the lengths Apple went to in order to make the machine a beast.
Apple says that the display gracing its new iMac Pro is the best one its ever used, with the 27-inch Retina screen clocking in at 5K resolution. You'll also have P3 wide color gamut at your disposal, along with 500 nits of brightness and support for one billion colors. In short: it sounds like an excellent display.
However, as with most Macs – especially one with this kind of hardware – that kind of power is going to cost you. While we don't know the prices for all configurations, we do know that the iMac Pro will start at $5,000, which is more than enough to scare non-enthusiasts away. We'll find out the rest when the iMac Pro launches on December 14.