Apple iMac 27-inch (2012) Hands-on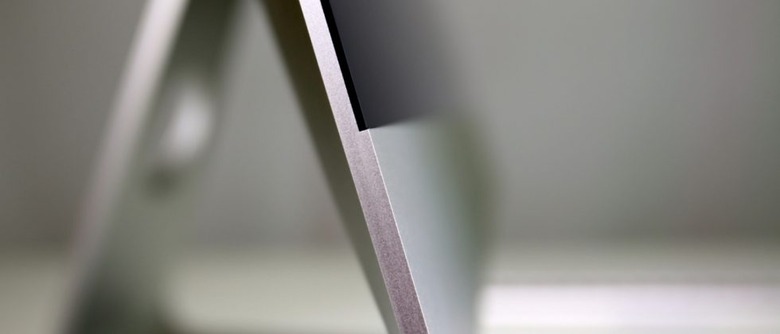 Apple's 2012 iMac has arrived in-stores and on the SlashGear test bench, first in 21.5-inch form and then the 27-inch behemoth following on in December. Borrowing design cues from Apple's portable range and debuting new construction techniques never before seen in desktop computing, the new iMac also keeps Apple in the front of the pack for performance, with a fresh array of Intel quadcore processors, NVIDIA graphics, and some storage magic in the shape of Fusion Drive.
There's a mixture of engineering and design magic that goes into making the 2012 iMac look so much slimmer than its predecessors. While the last-gen model had blunt edges, Apple has taken a leaf from the MacBook aesthetic and pared the edges down to a narrow taper of only 5mm: although the back actually bows out to accommodate the electronics, a casual glance makes it look like a significantly narrower computer than before.
There's a downside to that design decision, however, which is that you lose the integrated optical drive. Given Apple's trajectory with regards optical media as a whole – ditching DVD burners from the MacBook Pro and pushing digital media hard on the iPhone and iPad, with no interest in Blu-ray as a stopgap – that's no great surprise, but we can see it being more of a frustration to desktop users than their mobile counterparts. It's particularly annoying if you'd got into the habit of using your iMac as an all-in-one DVD player, since the sizable displays make for excellent kitchen, bedroom, or study sets. That being said, Apple does offers a USB SuperDrive for $79 should you need it.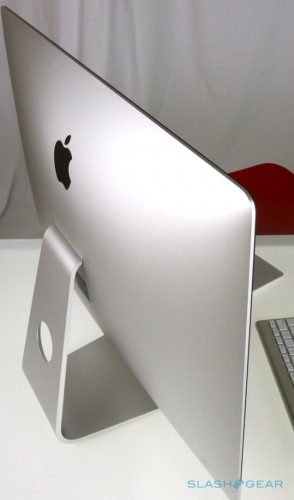 Still, what Apple has accommodated is probably of more interest to most users, and the 2012 iMac doesn't demand a sacrifice in performance for the design. The basic processor in the 21.5-inch is a 2.7GHz quadcore Core i5, with a 2.9GHz Core i5 and a 3.1GHz Core i7 both options; the larger, 27-inch iMac which will arrive in December starts off with the 2.9GHz Core i5, with a 3.2GHz Core i5 and 3.4GHz Core i7 optional. 8GB of DDR3 memory is standard across the board, though it's only on the 27-inch model that you can upgrade it yourself; if you want the maximum 16GB in the smaller iMac you'll need to pay Apple to install it for you (the 27-inch can be specified with up to 32GB).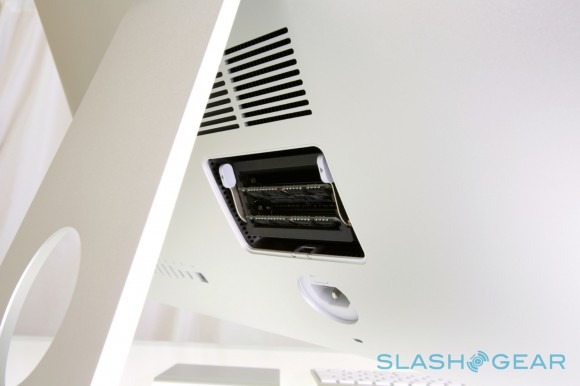 All-in-one computing used to mean average graphics performance, but Apple has opted for a range of NVIDIA GeForce chips to keep things moving on-screen. The entry-level 21.5-inch gets the GT 640M with 512MB of dedicated GDDR5 memory, with the more expensive spec version stepping up to the GT 650M. Keeping the 27-inch ticking over is the GTX 660M, with 512MB, while the GTX 675MX with 1GB and the GTX 680MX with 2GB, are the higher-spec options. It's early days, but the performance we've seen from both CPU and GPU has been silky smooth.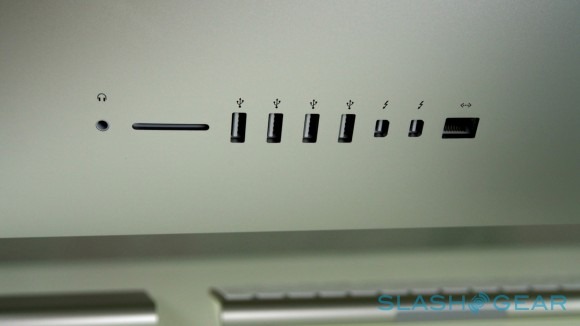 There were some hopes for Retina-class graphics on the 2012 iMac, but instead things stick with the same 1920 x 1080 (21.5-inch) and 2560 x 1440 (27-inch) resolutions of before. The panels themselves are different, however, using the same innovative full optical lamination as seen on the iPhone and iPad though boosted up to desktop scale. In short, Apple takes a thinner LCD and bonds it directly to the cover glass, doing away with the traditional 2mm gap in-between (which Apple says reduces glare and reflections up to 75-percent, though if you're working with the sun directly over your shoulder, it can still get a little annoying) for a picture that looks almost like it's swimming on the very surface of the display.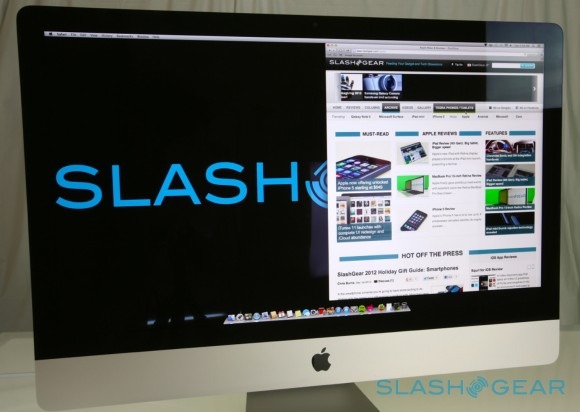 In short, this is a long-anticipated update that promises to run as fast on the outside as it looks slick on the outside. We'll be putting the new 2012 iMac through its paces in time for the full SlashGear review, but until then enjoy our full hands-on gallery.