Apple iBookstore Pricing Gets Altered, Prices Get Increased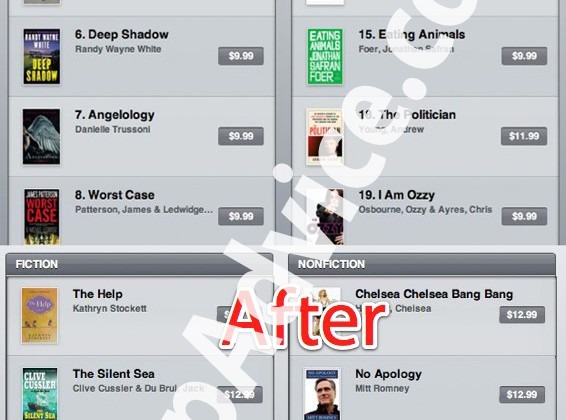 There's no doubt that the iBookstore is going to be a hit. Much like the iPad itself. But, that's not stopping news from breaking on the subject at large. From free books being directly available from the digital bookstore, to the pricing getting changed all willy-nilly, it's looking more and more like we're not going to know what's the final word until Apple delivers it. Which, unfortunately (or fortunately, depending on how you look at it) means until we get the iPad in our hands.
A couple days ago, the pricing for iBooks broke cover in the form of an unofficial screenshot. Now, through another unofficial screenshot, we can see that some of those same iBooks have received a price increase. We've been hearing that the scope of prices will be anywhere between $9.99 and $14.99, so seeing the majority of iBooks have taken the middle-ground and landed at $12.99, we're not all that surprised.
As we mentioned in the opener, this isn't the final word. It's in no way the determining factor in regards to how much these digital books, sold out of Apple's iBookstore, are going to go for. We won't know that until the final release, and all we can hope for is some kind of official verdict from the Cupertino-based company. We can keep our fingers crossed, but that will probably hold until April 3rd, when customers get their hands on their own.
[via Everything iPad]