Apple iBookstore Will Include the Gutenberg Project Catalog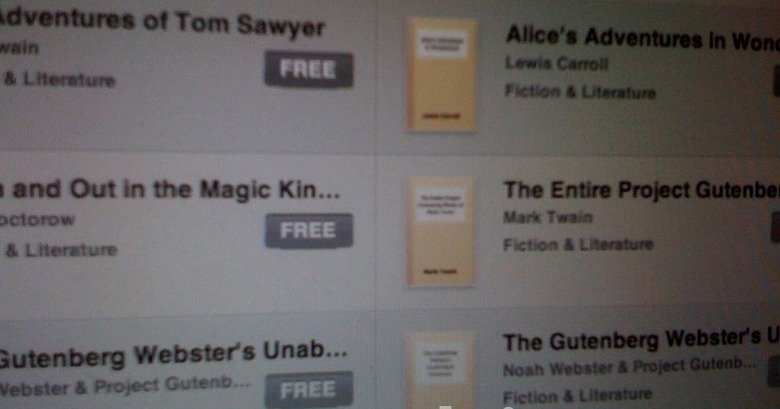 The Apple iPad is just about upon us, and it seems that the iBookstore, and the iBooks in particular, are coming under some heavy scrutiny just days before launch. That's a good thing for us (and you), because it's shedding some more light on one of the more pragmatic issues with the tablet device. We already knew that the tablet was going to support reading and importing ePub formatted books, but if these images are to be believed, that may be a non-issue at this point.
While the iPad supporting the free ePub format for its iBooks is great, a lot of users wouldn't want to go through the hassle of installing them onto their device. Yes, all you have to do is download the novel of your choice, drag and drop it into your iTunes library and you're off to the races, but not everyone is planning on having easy access to iTunes while they're using their iPad. So, if the Gutenberg Project is indeed being supported, and in fact part of the iBookstore, that's very good news. It just means that over 30,000 free books are going to be available for your perusal and easy download onto your iPad.
We're hoping this bit of undercover work from AppAdvice will pay off. While we're fond of purchasing our books, especially in the digital format, having the option to pick from one of our many favorite classics for free is too good to pass up. And, if it's part of the iBookstore, then the Gutenberg Project Catalog should also benefit from the User Experience that all other iBooks will share, with slow page turns and the like. Of course, Apple probably won't comment on any of this; but why should they? Their tablet is launching in just over a week. We can be patient, right?
[via AppAdvice]