Apple iBooks Patent App Reveals Fun And Interactive Features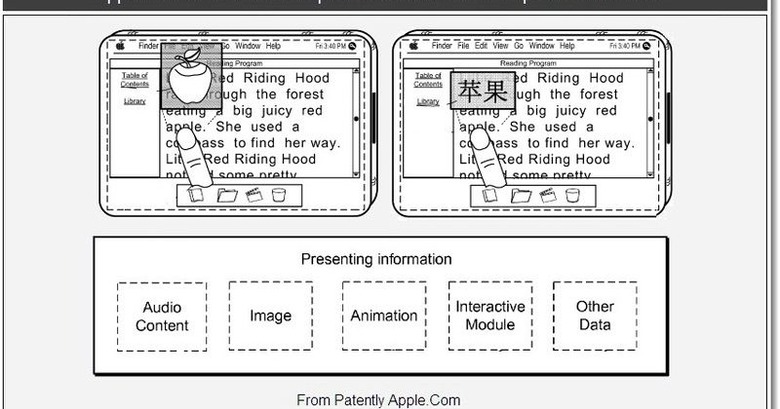 A new patent application from Apple was published last week by the USPTO that revealed some neat features planned for the Apple iBooks app. The popular iOS e-book reading app looks to be getting more fun and interactive, especially when it comes to children's books.
Patently Apple looked in depth at the patent application and highlighted some of the new gesture introduced. One of the gestures lets you tap on a word to bring up an associated picture, animation, or video. For instance, a child learning to read could tap on the word "apple" and bring up a picture of an apple. Or, if a person is learning a new language, they could tap on the word "apple" and bring up the text in their native language.
This gesture can also be applied to magazine articles where tapping on a word could bring up a pertinent widget. For example, if you tapped on the NASDAQ symbol of a company you're reading about in a financial magazine, a financial widget could pop up with the company's current stock price.
Other gestures mentioned in the patent app include finger wipes across text that could invoke audio playback of the text, single or double finger swiping to call-up an image, and two-finger press and hold to select phrases that then invoke pertinent information or media.
Other interesting Apple patent applications as of late include the physical metaphor gestures for file transferring, the selectively transparent augmented reality iPad displays, and the iPhone and iPad stylus.
[via Patently Apple]